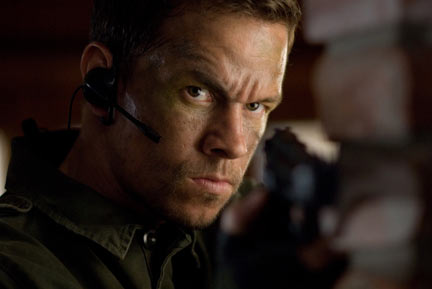 Shooter is an action packed movie about an ex-military sniper played by Mark Wahlberg (a.k.a. Jordon). Bob Lee Swagger (Wahlberg) is a retired marksman living alone with his dog in the mountains of some state with a lot of snow. He spends his days happily shooting away at cans of Dinty Moore soup in solitude when one day he is approached by a dude with Invisaligns (played by Danny Glover) who wants him to plan an assassination on the President. Not really. They believe there is a plot to kill the president, and they want Swagger to tell them how he would do it in hopes that it will help them find the killer before it's too late.
Turns out it was all a big setup and now there's a full out man hunt for Swagger. Through the course of the movie he ends up dodging multiple snipers and machine guns and almost single handedly takes down a bunch of fully armed men with a gun, some homemade bombs, and an FBI agent who really isn't trained in anything at all.
I give this movie 4 out of 5 paloozas. Realistic? No. Entertaining? Yes. Good enough to see in a theater, especially with all the crap that's out right now.

AAAA
AAAAA paloozas = See this movie in the theater for optimal viewing
AAAA paloozas = See this movie in the theater if you can
AAA paloozas = Pop some popcorn and rent this movie
AA paloozas = Watch this movie on TV … for free
A palooza = … I think you know where I'm going here…
No paloozas = Reserved for Eyes Wide Shut