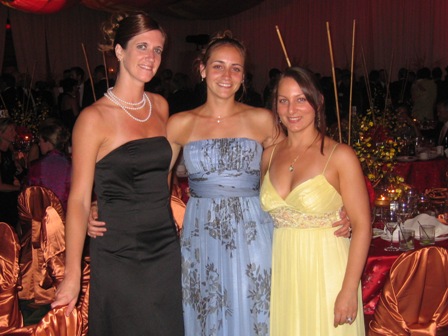 What a fun weekend I had!! Sarah brought Kristy and me to the John T. Petters Foundation Legacy Gala on Saturday. It was my first black tie event!! I got to rub elbows with the likes of Bill Cosby, Smokey Robinson and Dick Enrico from Second Wind Exercise Equipment. Alright, maybe I didn't rub elbows with any of them, but we were in the same banquet room.
My adventure began on Thursday when Sarah and I went shopping for the proper attire. We found both our dresses at Bloomindale's in MOA. I bought a fun BCBG yellow gown (regularly priced at $352, I snagged the gown for a mere $60) and Sarah bought a BCBG blue strapless number that was adorned with chocolate colored flowers. Oooh, oooh, and Bloomingdale's has a petite section, so my beautiful yellow gown didn't need any altering to fit my 5′ frame!!
Friday I went shopping for jewelry and accessories after work. One hour and one pair of earrings later I decided to continue my search on Saturday.
On Saturday I went to Maple Grove. First I hit up DSW. I couldn't decide between two pairs of shoes. Since I didn't have my dress with me I decided on both, which proved to be a good choice as my second choice pair matched the dress better. Then I spent the next hour and a half looking for necklaces, Nalgene bottles for Nick and a video game for Nick. I don't know how he absently weasels his way into all my shopping experiences, but he somehow does it every time. From their I went home and got beautified; nails, hair makeup and the like, then headed over to Sarah's where Kristy was getting ready and Scott, Sarah's co-worker and Kristy's-not-a-date for the evening, was waiting.
We headed downtown to the Hilton shortly after. The theme of the evening was "A Night in Beijing". The place was decorated with bamboo sticks and those fun little paper mache looking globe light thingies. There were men in suits, women in fancy dresses and wait staff walking around with trays of champagne and hors d'oeuvre s. There was a silent auction which included things like jewelry, art, sports and entertainment memorabilia and vacations.
And then there was the Tiffany table [insert choir of angels singing here]!! For a mere $200 (which didn't seem like real money because during registration they gave you stickers with a bar code associated with your credit card number) you could pick a little blue box. It's contents could range from $40 to $2500. Earrings, necklaces, bracelets, diamonds, silver, gold … votive candle holder. I couldn't resist the opportunity to get something sparkly valued at $2500 from Tiffany's for $200. I justified it by telling myself it was no different than going to a casino. It was a gamble, but I was guaranteed to get something out of it. And of course the money was for a good cause as well. I put my sticker on the sheet, selected a blue box, untied the ribbon and got a piece of paper. A piece of paper that said "Elsa Peretti Silver Bone Cuff $575". Woo-hoo!! More than $200. It's a fancy little silver wrist cuff that has a little hump that fits over the funny little wrist bone. Woo-hoo, it wasn't not old womanish and gaudy!! After a few failed attempts to get it on, Kristy discovered the secret, and I wore it happily all night long.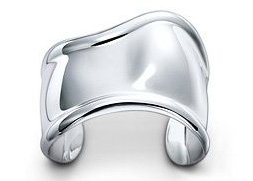 Dinner was excellent. An Asian salad, best scallops ever, a filet mignon that could be cut by a butter knife and for dessert green tea mousse. The dinner entertainment was the Chinese Circus. They were some crazy acrobats that could contort and balance themselves, and balance objects and do all sort of crazy mind bogglingly impossible things.
Dinner was followed by a live auction. They auctioned off things like cars, vacations, Super Bowl and other "priceless" experiences. A surprise item of the evening was one of Hulk Hogan's three championship belts, signed. It went for $21,000. After the auction was a comedy act with Bill Cosby. I thought he was very funny. He did a lot of stereotype comedy, which I love.
Watch my mediocre video of Bill Cosby here!!
After the festivities were over we mingled around for a little bit, eventually making our way up to the Imperial Suite on floor 24 where we stayed until 3:30 in the morning.
It was a great experience. Thanks Sarah!! I had a lot of fun and hope to do it again [hint, hint].
Pictures will be added to the gallery soon!!