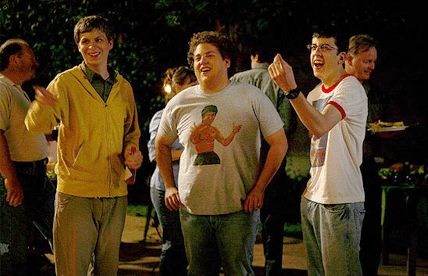 Tonight I went to the theater to see Superbad with Nick and Bolin. It was another one of those dumb funny movies. And boy was it dumb. And funny. And filled with graphic sexual language and drawings of penises. The review below is not for the faint of heart.
Superbad is about three nerdy guys who are trying to have their last sexual high school hurrahs before college so they can be good at it when they get there. Seth (Jonah Hill) is trying to score liquor for a party so that he can get the hot girl of the school drunk and have sex with him. Evan (Michael Cera) is torn between getting a drunken blow job by the girl he cares about or being a nice respectable guy who tells her how he feels. McLovin' (Christopher Mintz-Plasse) is the geeky party killer who ends up being the Mac Daddy of the night. The movie plot starts out with the three boys trying to score an ass load of liquor for a party with McLovin's fake id. From the beginning things go awry and a wild adventure ensues with the guys first trying to steal liquor from another party and then trying to make their way back to the party they are supposed to be at while being chased by the cops.
It sounds rather tasteless, but it's really not that bad. It's filled with dumb humor and an underlying theme of separation anxiety that Seth and Evan are facing knowing they'll be at different colleges in the fall. This movie was definitely worth the $9 to see it in the theater. I give this movie 4 out of 5 paloozas.
AAAA
AAAAA paloozas = See this movie in the theater for optimal viewing
AAAA paloozas = See this movie in the theater if you can
AAA paloozas = Pop some popcorn and rent this movie
AA paloozas = Watch this movie on TV … for free
A palooza = … I think you know where I'm going here…
No paloozas = Reserved for Eyes Wide Shut