Let me begin by saying that I don't exploit people. A few strategically placed images on the web here and there doesn't denote exploitation. I'm a strong believer that people have the right to know. If you have no idea what I'm talking about you can look it up on Nick's blog. If you're racking your mind right now, tapping into those memory banks because you don't remember reading it there, it's because it's a new post!! But no need to rush over, the post will probably be on the main page for awhile, if you know what I mean.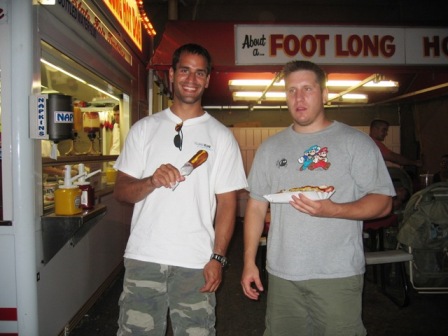 On Monday Nick and I went to the fair for the 4th and last time this year. We brought along Kristen and drug along Curtis. I thought it would be a good idea to try driving there because it would be $20 for the four of us to ride the bus and it would be free to park there, if not for the sole reason that I couldn't handle another bus adventure. We managed to find the fair just fine, but had no idea where to park. We ended up at the ETC Park & Ride. We had a short bus ride, but as much as Nick bitched, he can't argue that it was FREE!!
We entered by the Haunted House and promptly moseyed over to the AAFLHD booth for Nick. Then C, K & I got a corn dog. Mmmmm. We four way split a Nut Roll. Way better than the prepackaged ones. Then we stopped for a couple steak sandwiches again. We headed up to watch the 3:00 Lumberjack show, only to find there was no 3:00 Lumberjack show. I won't exploit the person who led us astray. But that was ok, because I wanted some kettle korn. The line wasn't that long, but it took frickin' forever. One lady bought the entire first batch. That is just a ridiculous amount of popcorn. The small is equivalent to a movie theater jumbo. And the large is a bag that looked taller than me. So I don't know why anyone would need 4 bags of it, but apparently this lady did. So after a few more batches I got a small bag. C & K helped me eat about half of it. When I bought it I intended to throw away what I didn't eat, but it was just too good. So it's sitting in my kitchen right now and I'm looking forward to a nice little snack when I get home.
After watching C & K split a root beer float I had to go for another Dippin' Dots one. Which was immediately followed by a blackberry malt from the dairy barn. We visited Jordon & got some free minis, then filled up with liquids and sat in the shade by the Grandstand for quite awhile, chit chatting and listening to the Def Leppard/STYX/Foreigner sound check in the background.
Then we relaxed in the shade again and watched a comedian for a bit (I'm sure there was some food eaten in the interim, but the memory gets so hazy after the 4th time there). He was quite funny, making fun of us Minnesotans tastefully without ever imitating the accent from the movie Fargo.
After that I got another pretzel. It wasn't as doughy as the first, but it was still good. Until Kristen threw away my cheese >:( Then I had a taco, but I forgot to ask for sour cream >:(
After that fiasco we headed to visit Jordon at the Tiny Tim donut stand for the second time of the day, chit chatted a bit and got another bag of mini donuts. Then we headed to Sweet Martha's to get a cookie bucket for Travis. $13 dollars later we were eating the top layer of cookies so we could close the pail. Nick got another AAFLHD, C&K got more corn dogs and that is when the infamous picture above was snapped (more pics in the gallery).
We said goodbye to the fair 6 1/2 hours after we arrived and hopped back on the ETC bus. It was a bittersweet goodbye. Until next year, Great MN Get Together!!