Dive 5
On Saturday I did my first official dive!! Since Kristen was feeling better, she scheduled her final checkout dives for Saturday afternoon. Curtis, Kristen, Nick and I headed to Brainerd in the wee morning hours. While Curtis & Nick participated in the morning fun dive, Kristen and I tore up the town buying winter wear and lip gloss. We stopped for lunch at Poncho & Lefty's then headed back to the dive shop, lounged in the Explorer and read magazines for an hour or so.
Once the guys got back, Kristen and I got our rental gear all picked out. Curtis, Nick and I then tagged along to Mahnomen II & III where Kristen and the others were doing their dives. One of the most entertaining points of the day was watching the boys put their wet wetsuits back on. Especially Curtis because he was layering about 6 of them. The water felt a bit chillier than it did on Tuesday, possibly because the air warmed back up to the mid-60s, but once underway I was quite comfortable. There were mostly trees and long grass to look at during the dive. We did see some large schools of tiny fish and a couple really big northerns. No attacking loons, however. The thermocline must have been around 30′, I didn't go much lower than that. Nick was getting really low on air (surprise, surprise) so we surfaced, only to find out we swam a really long way away from where we began. Since Curtis and I had plenty of air left, Nick offered to snorkel back while Curtis and I dove. I was having the same problem with my ear again after surfacing, so I decided to hang around 10′ for a bit. All of a sudden I felt some resistance. I turned around to see Nick mooching off of my alternate. He hung around long enough for Curtis to snap a photo, then back to the surface for Operation Snorkel Home.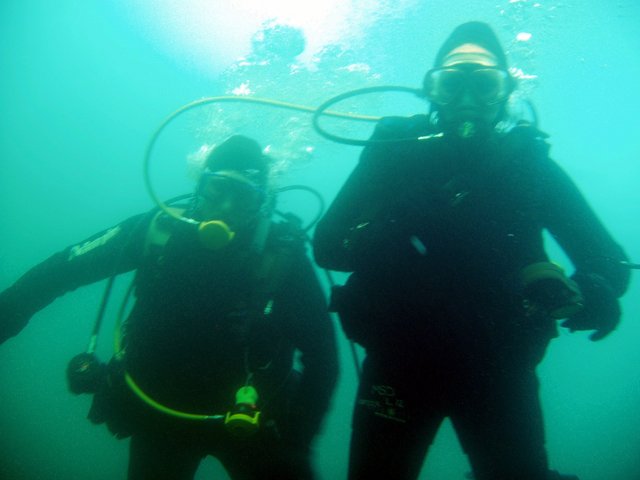 I hung out in Curtis's bubble path for awhile, and my ear started behaving itself long enough to drop down to 25′ or so before we re-surfaced. Hopefully this doesn't become a pattern, or it will be more irritating than renting gear. On a side note, this is the first time I've dove while the sun was out from the clouds. When we were coming up to about 5′ from the surface I could see and feel the rays coming through the water. Very neat.
We got to the shore right before Kristen and her fellow divers. After Kristen finished up her papers at MSD we headed over to the cafe that welcomes back door guests for dinner.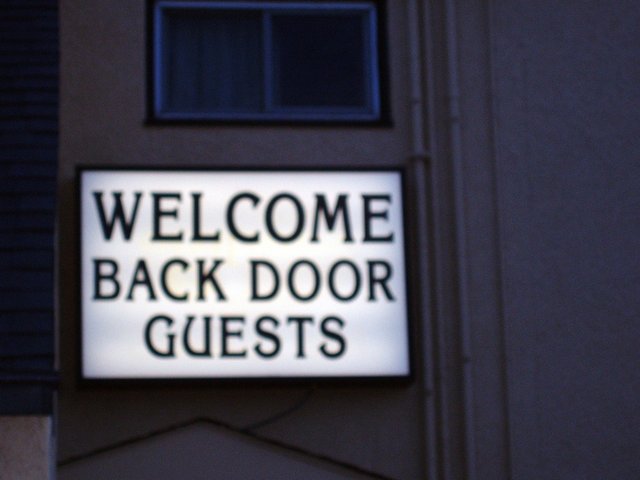 FINALLY!! We got to have our celebratory birthday cake ice cream… except for Nick, who went with a chocolate malt. Another long drive home ended one diving day of many to come.