Nick and I are having our 2nd Annual camping weekend at my parents' cabin on Dead Lake. We arrived late Wednesday night.
Thursday we bummed around the cabin and took the fishing boat out in the evening for a couple hours. On Thursday night Sarah, Jake, Travis and Smitty arrived. We sat by the campfire for awhile and then hit the hay.
On Friday the boys went fishing, while Sarah and I caught less than an hours worth of rays before the clouds rolled in and it got windy. Super windy. And cold. Michelle and Jeremy showed up around 12:30. The boys came back to pick up Jeremy and the three of us girls sat huddled in towels on the lawn chairs. Soon it started raining and we headed inside.
Randy and Paul stopped by a couple times to visit. Randy graciously gave up his and my mom's bedroom for us to use and was staying at the other cabin (two cabins away). Since the people they were expecting weren't showing up they invited us for breakfast at 9 the next morning.
The boys came back later in the afternoon to refuel (with food, not fuel). All but Nick and Travis were pretty drunk. Fishing had been pushed aside for a game that involved slapping each other, so they were all red and welty. They headed out after ravaging our food supply, leaving wrappers and food remnants everywhere.
The boys took the pontoon out again. Shortly after it stormed again, big time. The radio reported severe t-storm warnings. We couldn't believe they rode it out on the lake. When they got back the sun came out, but it was rather chilly.
Smitty drank too much and was completely inebriated. He sat on the steps for about two hours vomiting the entire time. After which he passed out face first on the lawn. I think we all agree we've never seen him this drunk before.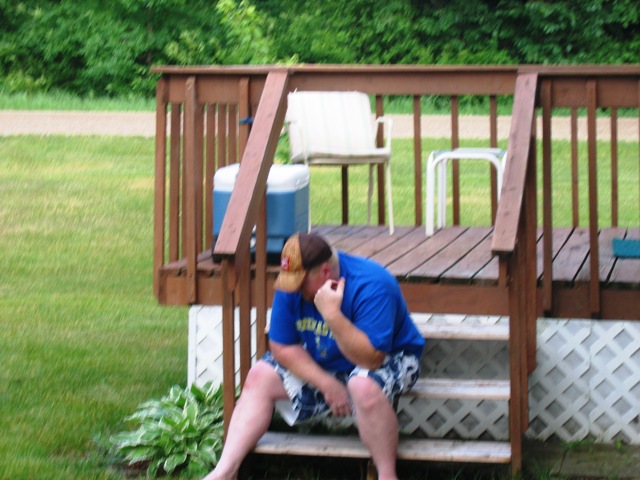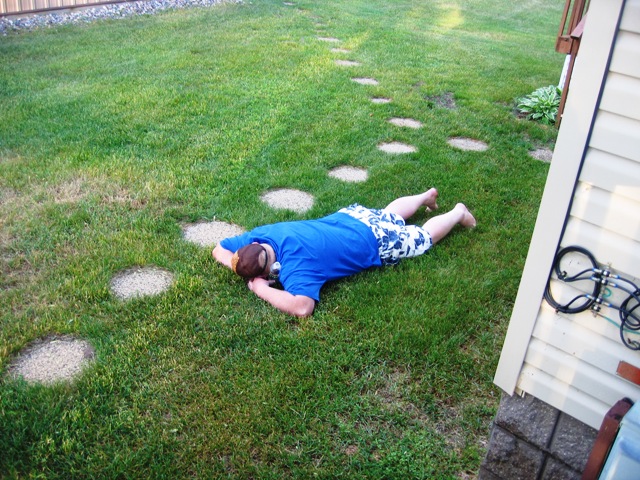 Jordon showed up about the time Smitty was on the lawn. Since it was too windy to have a fire we spent the night inside playing games.
Today (Saturday) I woke up at 8:58. No one was up yet and I didn't want to wake anyone, so I walked to the other cabin to let them know we probably wouldn't be in attendance for breakfast. Apparently Randy had stopped by about a half hour before. He said Smitty and Travis were up and said they'd come to breakfast. Sure enough, they showed up shortly after I did. Smitty seemed fully recovered from the night before. The three of us at with Randy, Paul and Denel. Yummy pancakes with giant blueberries, eggs, sausage and cantalooop. After some chit chatting we headed back to our cabin. Everyone was up and they were making breakfast. Michelle had already left to go to a baby shower. :cry:
Now I'm going to go play hearts :D