Has Peter Facinelli told you he loves Dairy Queen today?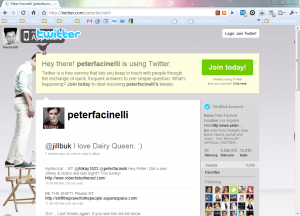 Last night I had a dream that PFach drove to MN on a suped-up four wheeler. Then we went to DQ with TwiSarah and Emily (aka Team Dog). We then proceeded to order delicious Blizzards.
This morning I tweeted:
@SarahRed567 @Krazygirlmn1 i had a dream that @peterfacinelli drove to MN in a 4-wheeler to hang out with us and we went to the dairy queen
A few hours later I get a cryptic gchat message from Mary that went something like this:
Mary: eeeee JIBS!
YOUR TWITTER YUOR TWITTER ZOMG
I AM TOTES FANGIRLING YOU RIGHT NOW

jilly: ?

Mary: Girlfriend your REPLIES

jilly: huh?

Mary: ohmahgah, is this like.. a normal occurance for you and ij ust don't KNOW?!

jilly: my god, i can't even remember what i tweeted this morning

Mary: How about the reply that was sent to you about a minute ago?!

jilly: OMG OMG!!
OMGOOMGOOJAJOGMMMGOAOS

Mary: SEE?!
After that I had my 15 minutes of Twitter fame where I received texts, @replies, DMs and emails. Not to mention a handful of new followers who will likely unfollow me once they realize I'm pretty lame I'm too much cool to handle.