Without air conditioning, I woke up in a pool of sweat. The temps inside the condo had made their way into the 80's. My phone said it was 6:22 am. I felt awake (that's what happens when you go to bed at 10, apparently) but went back to sleep anyway. Nick woke me up at 7. Curtis and Kristen had abandoned us. From our window, I could see them sitting poolside, so we crashed their party and joined them for breakfast.
The only ones eating were the four of us. It was nice and peaceful. This was the first week the bar served breakfast, so everything is still pretty new. While we were waiting for our food, Kristen went to the front office with a list of our demands. Apparently this was the first time our condo had been rented (suspiciously enough, there was a used razor and a bottle of baby oil in our bathroom).
After breakfast, K and I went back to the room so she could put a swimmer on. The maintenance guy was waiting for us there with a wireless router (woo-hoo!). Getting the interweb connection working was a simple task. The A/C, on the other hand, took a bit longer. Kristen went down to the pool while I stayed in the room so the guy could have access.
I started to get a bit of cabin fever, especially with the heat. I read my 2007 Belize posts, put on some music (iPod docking stations everywhere FTMFW), paced a bit, thought about reading but decided it would be miserable because I'd have to think and it was too hot, put on sunscreen, and made promises I had no intention of keeping to any god who would listen for a bit of cold air. I also snooped around the kitchen a bit. There's a box of Dream Whip. It must be a hot commodity. There's also a folder labeled "unit activity" which included the cleaning records. There were two pages of cleaning history. They sure cleaned this place a lot seeing it's never been rented . . .
Relief came in the form of going to town with Kristen and Cindy. We rented a golf cart. The journey was long and arduous. The potholes threatened to swallow us whole, and the day was a scorcher, amplified by the inability to escape the heat. The market was pretty slim pickin's, but we made due. Kristen was hell bent on buying oatmeal (we later found an open container of Quaker in our room, which hasn't been rented). We also stopped at a liquor store called Liquor Box (lolollllllll). We were going to go to the far south end of the island to get a case of Belikin but it was noon, and because we had to be ready to dive at 1:30, we decided the boys could go get it themselves.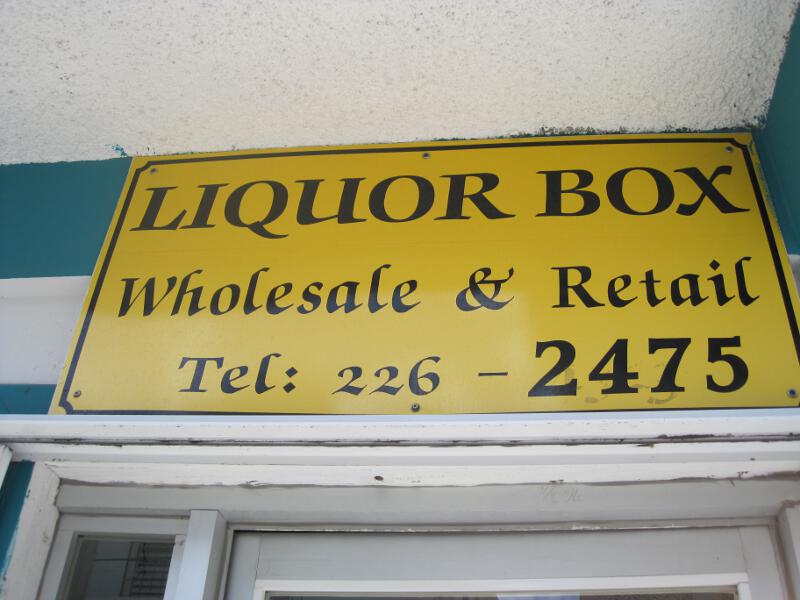 We ate a quick lunch at the resort. I had conche ceviche. Mmmmm. They were out of Coke, so I ordered an orange Fanta instead. After that, we went diving!
When we returned from diving the A/C was working. Cold air and interwebs, what more do we need? After computing in the room for a tad, we went back to the restaurant, which is named Foot Prints, btw, and had Thanksgiving dinner: turkey, stuffing, rice, mashed potatoes, sweet potatoes, green beans, and cranberries. Nick ordered an orange Fanta, but sometime between lunch and now, the entire soda machine broke down. For those of you who don't know, it's been over a year since Nick has last drunk pop. Kristen and I had Panty Rippers, an island drink of coconut rum and pineapple juice. I topped that off with a Dirty Banana which is a banana daquiri with chocolate syrup drizzles around the glass. They were both good, but I think the piña coladas from the night before were much better.
Dessert was included with the meal as well. There are five or six desserts listed on the menu along with a note to ask the server which two are available on the particular night. The choices were cheesecake or lemon pie. But there was only one piece of cheesecake left. Ha ha ha. Ellie got the cheesecake, the rest of us had the pie. It was the consistency of a lemon cheesecake, though, so I was happy. Foot Prints has been a delicious, fun, and convenient experience, but I'm more than ready to venture into town for dinner. Especially after reading about how fantastic all our meals were last time.
It's 9:10 now and I'm getting pretty sleepy. I'm going to hit the hay and be well rested for our dives in the AM.