It was easy to get up after going to bed early and dinnerless. Kristen was kind enough to make us breakfast, like she has every morning, and we were down at the dock at 8:30.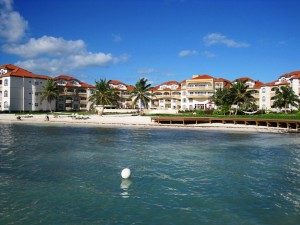 After diving we took a dip in the pool and had drinks and lunch poolside. Computing in the room followed. Nick put some finishing touches on The Spreadsheet, naps and computing were had by others.
We took the water taxi into town again and ate dinner at Elvi's. I had scallops in garlic butter and a piña colada. Delicious as expected. Afterward we stopped at The Liquor Box (hehehe) again. Ted (& his case of beer), Nick, and I headed to the Coastal Xpress dock to catch the 8:30 taxi back. Kristen, Curtis, Cindy, and Ellie went to the grocery store and made it back just in time to catch the boat.
Back at Grand Caribe, Ellie found this giant hermit crab. Good thing no one stepped on it this time . . .