Dive: 47
Belize Dive: 5
Date: 11/28/10
Site: Cypress Canyons
Avg/Max Depth: 47/84
Temp: 81
TBT/CBT: 0:56/37:56
Buddies: Ted, Nick, Curtis, Kristen, Cindy, Ellie
The surface interval at the dive shop was fairly uneventful. Kristen and I walked to a pharmacy to get her some band-aids. Here's a pic of K in the pharmacy in her wet suit: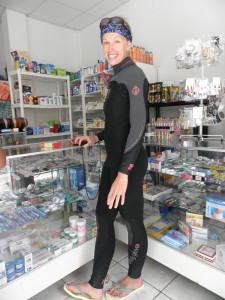 I also got an unobstructed photo of the Lino's Meats sign: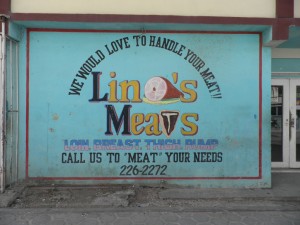 For the second dive, we went to Cypress Canyons. I had a lot of fun swimming around and taking photos.
Rudy found a nice sized lobster right off the bat: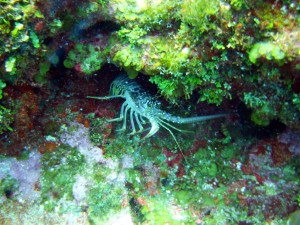 This moray eel was swimming about, and this Nassau grouper didn't much like it: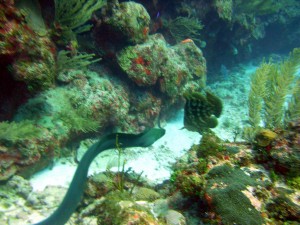 We went through a cave. I took some pictures from inside, but it was too dark for them to turn out. Very fun.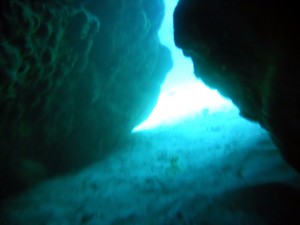 I kept thinking people were giving the sign for some sort of underwater moose because they kept wiggling their fingers above their heads. Turns out it was the sign for lionfish. Kristen pointed this one out to me: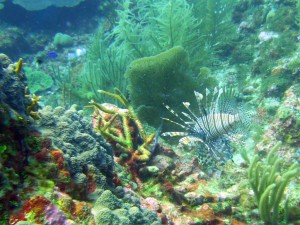 This picture was taken right before the fish was speared. Lionfish aren't native to this area. They are native to the pacific region. It is believed that they were introduced to this area when a hurricane took out an aquarium at the Atlantis resort in the Bahamas. They are wreaking havoc on the eco system here. They eat everything but have no natural predators in these waters. For that reason, killing these fish is encouraged. Rudy and Loidy have both hunted them. Apparently there stings are no fun. They don't like to do it on dives, however. Whoever speared this one was someone who happened to be there at the same time as us.
I understand and agree with why they hunt these fish. But something about watching it done is unsettling. I wonder if I would have the same "that's too bad" reaction if the fish were ugly . . .
You can read more about it here: Reef Killer: Lionfish
Back to happier topics: I love parrotfish, but I can never seem to get a good photo of one. I followed one, deeper and deeper, as it swam through the reef. I didn't get a good pic of it, but when I looked at my computer, I only had 3 minutes left till deco. I was at 70+ feet at the time, so I slowly ascended to 35 and followed the group from above.
Ellie: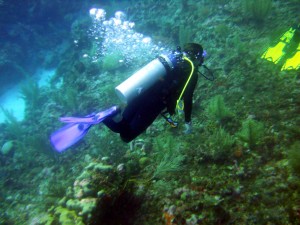 When I do my safety stop, I always try to stay away from people. A group of people underwater seems to have it's own magnetic force. Sucks you right in. I really get a kick out of watching Rudy try to do a safety stop. He forms a little circle with Ellie, his daughter (also 10), and the newbs, and then tries to keep them all at 15 feet.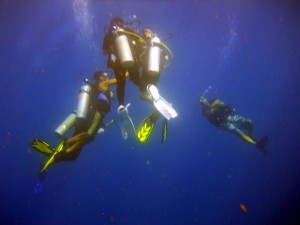 Right after my 3 minutes safety stop was over, I noticed my tank was bobbing along to the right of me. I got Ted's attention. He gave me the "I'm shrugging my shoulders because I don't know what you're trying to tell me right now" sign. I knew when he noticed it had come loose because his eyes bugged out really wide. Then he and Nick fixed my tank. In retrospect I should have just surfaced with it like that. While they were fixing it, I sank down to 20 feet and my computer told me I needed another safety stop. It wasn't a big deal because it takes a while for everyone to get in the boat anyway, so I just hung out at 10 feet for another 3 minutes.
More diving photos here.