After sitting in the Houston airport for what felt like hours, we finally arrived in Belize City. Immigrations and Customs went smoothly. We only had to wait about an hour for our flight to Ambergris Caye. The Stress God from our trip 3 years is still waiting in the terminal.
2007: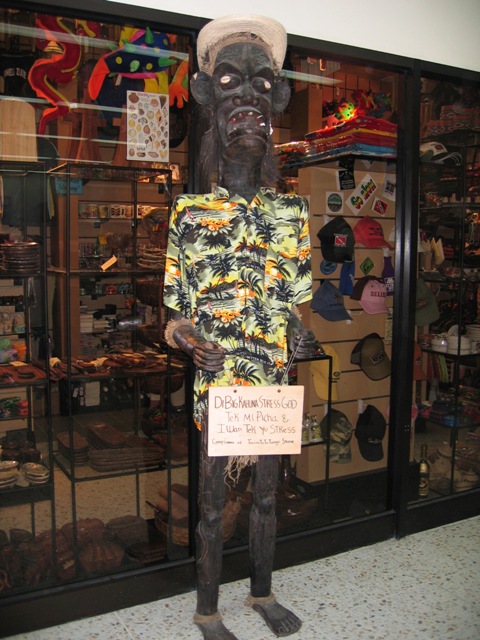 2010: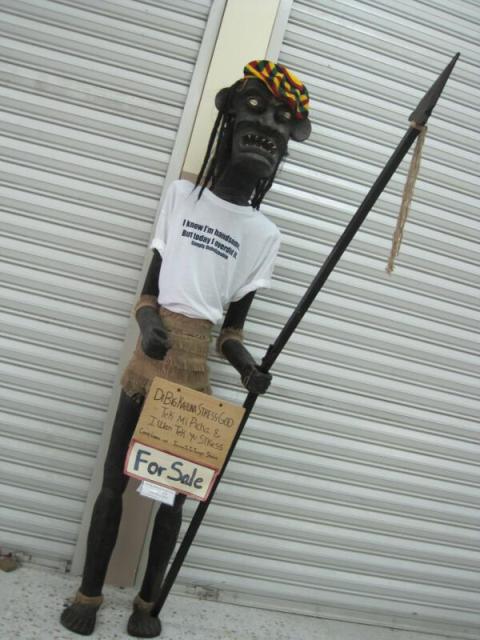 The plane we took to San Pedro was double the size that it was last time we were here. This one sat 14 passengers. A man from our resort, Grand Caribe, met us at the airport once we arrived. We hauled our luggage across the street and down the beach and took a water taxi to the resort.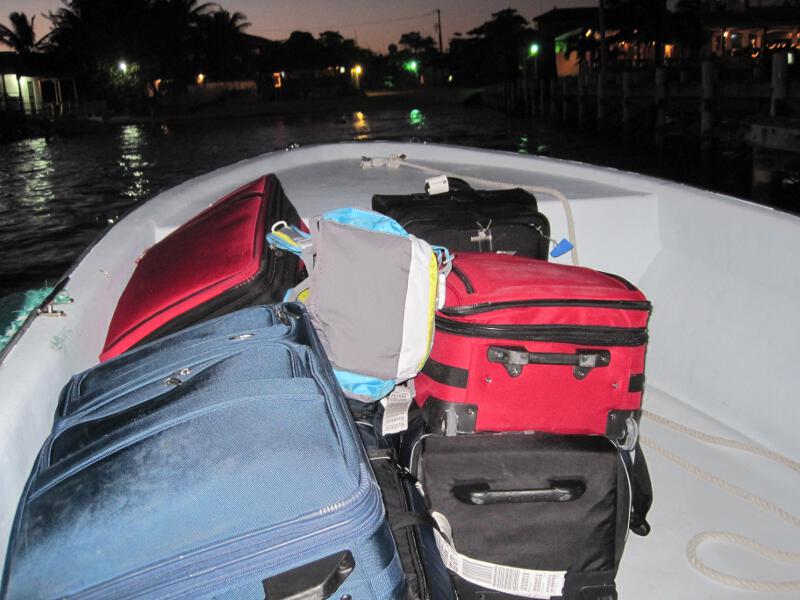 Somewhere along the way I realized that I forgot to pack a beach bag and my sachel purse. Fortunately BRK had an extra bag I can use.
The resort is very nice. There were flower petals sprinkled all over the place, and I counted 24 throw pillows. Impressive. Unfortunately the wireless interwebs aren't working at the moment, so I'm tethered to the wall by a 5′ cable. Also one of our keys doesn't work. Also the A/C isn't A/Cing. Hopefully all will be resolved tomorrow.
We ate dinner at the restaurant here, which is actually the inside of the swim up bar (woo-hoo! swim up bar!). I had the special—chicken dijonnaise with potatoes au gratin and steamed vegetables—which was delicious. Then, to our pleasant surprise, our bartender is none other than Amir, our main waiter at Banyon Bay in 2007:
When we got back to Banyan Bay Kristen and I went poolside and there I ordered a banana daiquiri to quench my banana craving. Amir (who I haven't mentioned prior to this point because I didn't know his name), our waiter for about 70% of our Rico visits, was now on poolside duty (first time all week someone has served poolside). He said he will be manning the swim up bar when it opens in a couple of weeks, but it's not busy enough now. Nick came to join us at the pool while Curtis napped in the room.
He was still at Banyon Bay up until two days ago and this is kind of his trial week at Grand Caribe. What perfect timing! It was meant to be. Between him, Eli (who worked at Bottom Time Dive in 2007 and now works at Grand Caribe), and Rudy (who also worked at Bottom Time and has now branched off on his own) there will be plenty of familiar, friendly faces over the next 11 days.
For more photos, visit the gallery.