Because Smitty's bachelor party was at my house this weekend, Nick gave me the boot on Saturday night. I ended up hanging out with my friend Katie and spending the night at her place. Actually, I kind of invited myself over, but that didn't affect the end result.
We went to Flame for dinner, picked up snacks and movies (The Kids Are All Right and The Social Network), and then headed back to Katie's really awesome downtown house/condo thingy that looks nothing like a living space from the outside.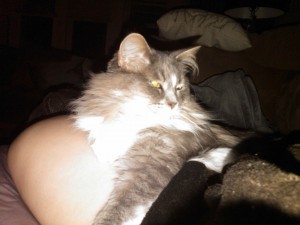 I ended up sleeping on the couch with Katie's cat, Keira. She's this really cute fluffy thing that let me do things Boo doesn't, like rub her fuzzy underbelly and stick my fingers between her toes. When I fell asleep she was on my chest, and when I woke up she was between my legs. I'm not a back sleeper, and as much as I didn't want to disturb her, I had to move. I tried to bend my knee so I could flip on my side with her behind my legs, but she was somehow attached to my leg and moved with me. I felt bad, but I ended up having to push her off. Unlike Boo, she didn't run away when I shifted positions. She simply sprawled out to take up more space on the couch. I ended up curling myself up and sleeping in a little ball. Her ability to not move the entire night was really impressive.
The evening was fun, even with the kink in my neck from catering to the cat's sleeping needs, and I totally intend on inviting myself over again some day. Katie, be forewarned. :)