We decided to go back to Specialty's Cafe and Bakery for breakfast because they served steel cut oatmeal until 10 AM. It was good, but not great. Definitely not up to par with the Blog Cabin oats that BRK makes. I got another Denver egg sandwich. It did not disappoint. They were out of dark roast coffee, which did disappoint, but that's okay. I just filled up before we left and took it back to the room.
After the busy day yesterday, none of us had any issues with chilling in the room after breakfast. Oh, and poor Curtis had a nasty cold. :(
It was cloudy and kind of cold outside, so what better thing to do than Ride the Ducks? There's nothing quite like going down the freeway in an open-air vehicle when it's 57° and cloudy! The land tour section was all right, but my favorite part was being on the water. The view of the city was spectacular, and getting a closeup view of the boats the planes and watching the seaplanes land was pretty neat. We even saw the house from Sleepless in Seattle. Not that I remember much of the movie. I was probably 12 at the time I saw it, and I always confuse it with You've Got Mail.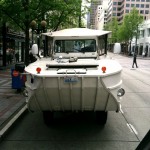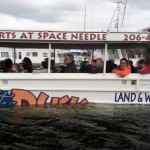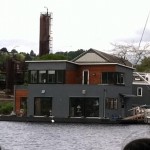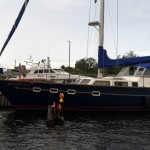 During the end of the tour, the sun came out, which made things much more comfortable. Once we got off the duck, we decided it was time for lunch. We ended up eating at McCormick & Schmick's. I had seafood and roasted corn chowder and Mongolian beef on jasmine rice.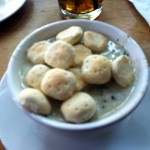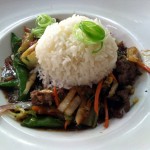 All the fresh air tuckered us out, so we headed back to the room for naps. At around 5ish, we went to the Fisherman's Terminal because the Duck tour guide mentioned that some of the ships from Deadliest Catch, like the Northwestern, were docked there. The only one we saw was the Rollo, which apparently was only on for a couple of seasons. I wouldn't know—I've only seen a handful of shows. I think BRK was kind of disappointed, though. :(
After relaxing and computing in the room, we went to dinner at Shuckers. The clam chowder was good (and expensive, holy crap! $9 for a cup??!?). I ordered the wild seared scallops for the main course. They came with asparagus, mushrooms, and crab mashed potatoes. Yum!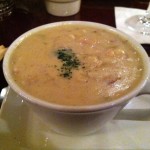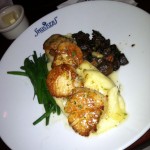 We were pretty full, so we ordered dessert, sans ice cream, to take back to the room. I got the chocolate fudge cake. BRK got the blueberry blackberry pie.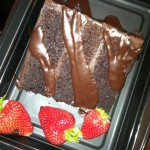 Tomorrow is the Blackfield concert, yay!