We waited for Pam and Bryan to meet us at our hotel room so we could go to breakfast. And waited. And waited. Finally we decided to eat without them because it was well past lunchtime our time, and we were starving. Kristen was smart enough to leave a note.
We ate at Specialty's Cafe across from the hotel. Best. Egg sandwich. Ever. Coffee was delicious too, as it should be because we're in Seattle.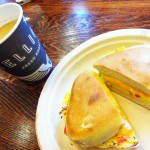 B&P met us at the cafe not long after we got our food. When we were done eating, we visited the Experience Music Project/Science Fiction Museum. The Nirvana exhibition was pretty awesome. It made me want to don some flannel and rock out to '90s grunge. There were also exhibits for the history of guitars, Jimi Hendrix, and Battlestar Galactica.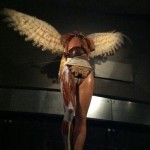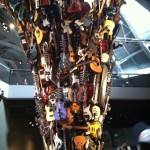 Next we went to the Space Needle. It was . . . exactly what I thought it'd be like, lol. Very awesome. Surprisingly enough, I didn't get vertigo or woozy or anything like that.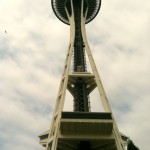 Did I mention we walked past a topiary . . . wall?
We ate supper at The Pike. I didn't know what I wanted to drink, and the awesome waiter asked me a bunch of questions like what kind of booze I enjoyed (vodka/rum), if I liked sweet drinks (sweet, but not too sweet), and if I liked strong ones (I'm a wimp). Then he disappeared. When he came back, he brought this: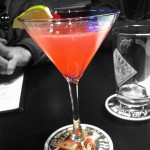 I thought it was very good, so I was quite surprised when he told me it was a cosmopolitan. I've tried them before but never enjoyed them. They've always been very rubbing alcoholy. Not this one. FYI, I did the fancy effects on my iPhone with the ColorSplash app.
Curtis and I were both adventurous and ordered the Fresh Fish of the Week, which happened to be Monkfish. It was a little on the spicy side, but the fish itself was good. And because it's so ugly, I've included a picture of the fish in whole form as well.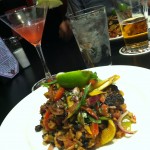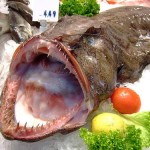 After dinner we wandered around aimlessly for a while. We stumbled upon the first Starbucks.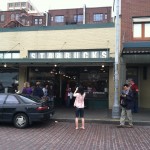 Eventually we ended up back at Elephant & Castle for drinks and dessert. Kristen ordered bread pudding. Again. She's on a birthday week bread pudding vacation kick. I could think of a billionty things I'd rather have, like an apple berry crisp a la mode. I almost went with the brownie, but I'm glad I didn't because Pam ordered it later in the evening and it was huge.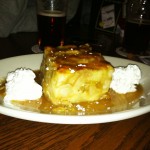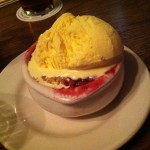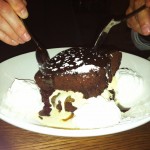 We stayed at the pub until around 11, but it felt more like 4 AM. Fortunately our room was only a couple minutes away. Not having any downtime made for a long day!