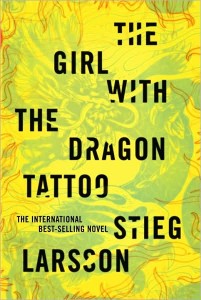 I recently finished reading The Girl With the Dragon Tattoo by Stieg Larsson. And by "reading" I mean listening to the audio book, mostly while in the car. Actually, it was done entirely in my car. I really suck at writing reviews, so I'm not going to attempt to. But it was really good. I enjoyed it, and I especially enjoyed the narrator. I think going the audio book route for this series was a good choice because I'm not sure I'd be able to pronounce any of the Swedish locations correctly in my head.
I watched the Swedish version of the movie today with BRK. Although I didn't think they did the greatest job with the book to screen adaptation, I enjoyed it. Okay, I kind of fell asleep toward the end, but in my defense (or the movie's defense) I was pretty tired going into it. And reading subtitles is kind of like reading a book before bed. It makes me all sleepy.
And speaking of reading, I'm going to have to kick it in high gear if I want to make my reading goal of six paper books this year. Even though my GoodReads widget says I've read four of my six book goal, two of those were audio books, and stupidly I said that audio books weren't going to count. *sigh* I did manage to actually read Mockingjay and Water for Elephants, both of which I enjoyed.
Hopefully I can make the most of the next three months. It will be interesting to see what I actually read compared to what my predictions were.