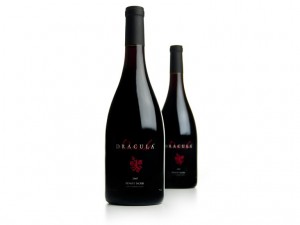 Guys, guys! We're totally joking about the Vampire Vineyards being owned by vampires. We're just normal people. With sharp cuspids.
When I saw the 2007 Vampire Vineyards, Dracula Pinot Noir on wine.woot!, I knew immediately that it was meant to be. Edward Cullen Vampire Vineyards, Pinot Noir… if my favorite fictional character and favorite type of wine were harmoniously coming together, well then it would be a crime not to indulge!
And along those same lines, the Vampire Vineyards 2007 Dracula Pinot Noir is definitely not made out of blood. I mean, why would we make a wine out of blood? That's ridiculous! Maybe if we were vampires that would make sense, but, as has already been established, we're not. At all. We're totally normal guys. Just a bit pale.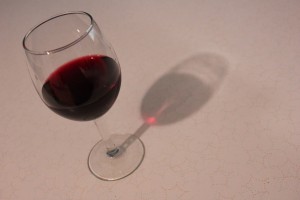 Made from grapes picked before sunrise under the Master's supervision, this wine highlights the incredible nuances and flavors obtainable from pinot noir grapes grown in the Santa Maria Valley. This cuvee was placed in French Oak barrels for 18 months prior to bottling, leading to a rich and concentrated wine with raspberry, dark cherry and pomegranate flavors–smooth and well rounded, with forward fresh fruit.
Now, when people talk about flavors or notes or whatever, typically I have no idea what they're referring to. And when I do, I sure as hell can't pick out the individual flavor. With this wine, however, there was something distinctly fruity about the flavor. Maybe my taste for wine is sharpening, or maybe it's because of the wine itself (probably the latter). Either way, I tasted something. I'm not exactly sure what that something was, but my brain definitely registered it as a food of the fruit variety.
This red wine might just have the least amount of dryness of any red I have had the pleasure to drink. It's got a very mild flavor, but it only took a couple sips to make my chest all warm and happy. So far, my first two purchases with wine.woot! have been better than most of my restaurant experiences combined. This only confirms my desire to stay home and drink in my basement as opposed to leaving the house.
I think I must go to vampire.com and check out Vampire Vineyards' other selections as well. Also, they have a lounge in California, (Doesn't that sound fancy? A lounge?) so next time I'm moseying through The Golden State, I am definitely stopping at this little gem for a quick bite taste.