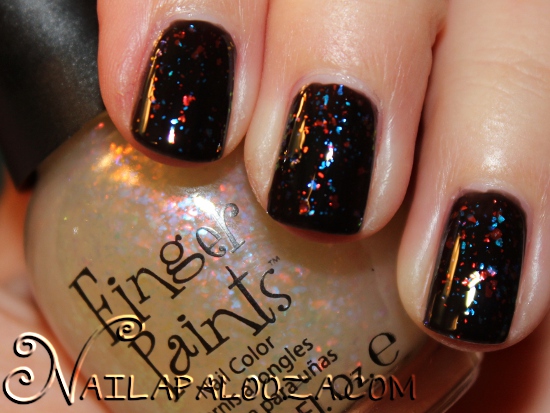 Asylum over NYC Black Lace Creme
I searched Sally Beauty Supply stores all over town to get a bottle of the new Special Effects Collection by Finger Paints. Originally my heart was set on Twisted, but by the time I finally found a store that had some in stock, I decided it wasn't the time to be picky. Instead of holding out for Twisted, I took my chances and decided to go with Asylum instead.
I love flakies, and I'm glad that these are getting popular now that I'm back into polishes again. I was worried, after reading reviews of the different colors online, that Asylum wouldn't be colorful enough for my tastes, but I was wrong. Over black polish, I can see red, orange, green, blue, and purple flakies. I used two coats for the photo above. Also, I was happy that the flakes stayed in place as opposed to traveling to the tip of my nail along with the brush.
This is actually my second bottle of flakies. I also have some by Nails Inc, and if I'm being honest, after using the Finger Paints version, I'm quite disappointed in the higher priced brand. For the money I spent, I could have bought all five flakies in the Finger Paints collection (assuming they are eventually back in stock).
The black polish I'm wearing is Black Lace Creme by NYC. Best $1.99 I ever spent. I bought it on impulse back when black was the new… black, and Chanel Black Velvet was going on eBay for $100 a bottle. It takes three coats but ends up even, glossy, and has impressive staying power.
Finger Paints Special Effects Collection is only available in Sally Beauty Supply stores.