Last Saturday, BRK and I went for a little shopping trip.
We started with lunch at Colossal Cafe. Kristen saw it on Diners, Drive-ins and Dives and was craving their pancakes or flappers or something like that. It was definitely the smallest restaurant I'd ever been in. It made me feel claustrophobic and slightly awkward. Unfortunately they were out of pancakes, despite serving breakfast all day (all day being until 3 PM when they close). BRK made due with oatmeal, while I ordered mushroom wild rice soup and a salad. We had to sit outside because there were no tables inside, which was fine by me. At least outside no one was invading our personal space. The food was good, though. I'd definitely go back again.
After we filled our bellies, we ventured to Edina. First we went to Athleta. I spent way too much money on a glass water bottle, headband, and shorts for dance.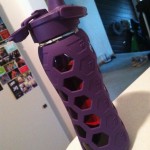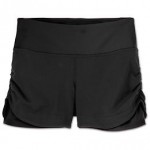 We stopped at a store with a bunch of blingy stuff and old lady lipstick because a purse in the window caught our eyes. BRK ended up buying it. It's pretty awesome. I don't remember the name of the store, something with "Me" I believe. Anyway, it was across the hall from Title Nine, which was the next store we stopped in. I tried on an awesome skirt, but it didn't fit me right. (It was actually a skort, but you'd never know. (Don't judge, we were in an athletic clothing store, and it would have been perfect for dance.))
Oh, we also went to Sweet Retreat, a cupcake boutique we found while looking for parking. We ate cupcakes. They. Were. Awesome. I ordered Mocha, BRK ordered Lemon Lovers.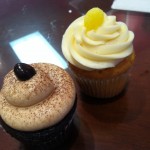 Once we had our fill of Edina, we high-tailed it to St. Louis Park to hit up Lululemon. Kristen bought a bunch of fun stuff. I bought another headband (had to test multiple brands, you know). There was a pair of shorts I really liked there as well, but the bins near the bottom were empty #ifyouknowwhatimean. It would have been nice to try them on; maybe if I knew they didn't fit I wouldn't be considering ordering $48 shorts online right now.
Here are my headbands. Unfortunately after testing them both, they don't hold any better than what I've bought at Target. At least they are cute.