Last weekend I was up north for Nick and my annual Dead Lake cabin weekend. I had just finished reading Insurgent (review coming soon) on my Kindle Keyboard, which I've had for a little over a year, when I set it on a lawn chair, and then proceeded to step on it while still on said lawn chair. I felt the resistance under my bare foot, but before I could react, there was a loud pop. At first I thought maybe it would be okay; the screen looked fine. But when I turned it on, the screen saver remained on top half of the screen.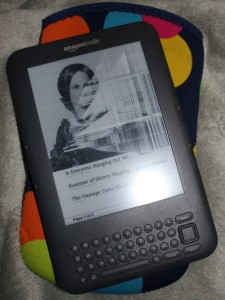 Fortunately I had just finished the book, not that I couldn't have read it on my iPad or iPhone, and I did have a paper book with me as well. Still, it angered me that I made such a stupid avoidable mistake. And I hadn't even started drinking yet!
Immediately I started researching the current Kindle models so I could order a new one for delivery first thing Monday, because I'm nothing if not impatient. I didn't want a Kindle Keyboard again. I never use the keyboard, so for me it added unnecessary bulk. It was hard to decide between the basic Kindle and Kindle Touch. I liked the weight and price of the Kindle, but the Kindle Touch had double the hard drive space (not that I think I would fill it, but you never know) and supported Audible files (not that I think I'd use it for listening to audio books, but again . . .). In the end I chose the Kindle Touch because my need to touch a word and get an instant definition trumped every other feature in existence.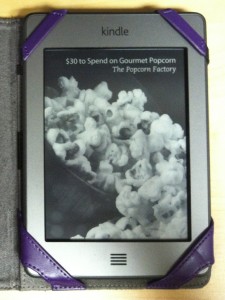 I was oh-so-happy when I received my Touch, but the happiness went down the tubes almost instantly. After loading it full of stories, I started having issues. It was laggy, the pages would take forever to turn, stories added to collections wouldn't actually be in the collection, the device would only halfway wake up, and a persistent application error kept haunting me. I did some hard restarts, and it always seemed to work for a while. This morning I decided to reset the factory settings, because I was sure support would make me do that, and if when they replaced my Kindle I'd have to start from scratch with my books anyway. From the things I read online (apparently this is a common issue with the Touch), the restore worked for some but not all.
So far I've been lucky. I reloaded my books and have been checking it periodically for the past few hours and it seems to be working okay. My fingers are crossed. I really like it, so hopefully it doesn't give me any more problems. I'm kind of bitter that it didn't work right out of the box—no device straight from the factory should require a restore. I feel bad for all the non-tech savvy people who receive faulty electronics.
Do you read ebooks? What device(s) do you use?