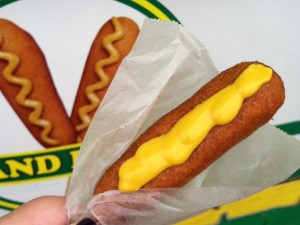 Nick and I attended the MN State Fair again last night. It was a pretty laid back evening. We roamed around and got some food, like About a Foot Longs and corn dogs, and did the mandatory stop at the fish pond. Apparently Nick overheard a dude referencing the catfish as a plecostomus. For the first time ever at the fair, I really took a look at the algae filled pond with the fake moose. There are ducks there! For real! Just hanging out, swimming through the nasty green slime. Who knew? #notthisgirl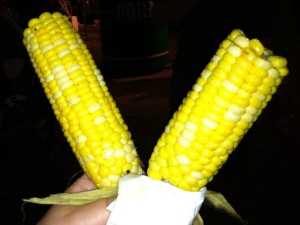 After the pond, we stopped at the Tiny Tim stand to say hello to Nuts and Jody before going off to find more food. We watched the evening's amateur talent show semi-finals for an hour or so. I decided I couldn't possibly go any longer without corn on the cob. To my surprise, I lucked out and got a two for one deal on a couple broken pieces. I was going to be nice and give one to Nick, but he declined, so I had the pleasure of double fisting the corn instead. It was awesome.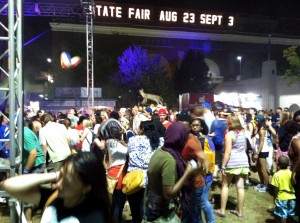 The FAIR-well to Summer Dance Party was in full effect by the time we made it back to the donut stand. It was entertaining to watch, but the best part was the stuffed bobcat surfing through the crowd. It was hard to get a good photo because it was dark outside and the strobe lights were going and the music was terrible. Wait, can music quality affect picture quality? Methinks yes.

Check out more pics below.