I might as well jump on the bandwagon for the last day of 30 Days of Thanks. Like Nick and BRK, I am thankful for Curtis.
First and foremost, he has a holey shirt.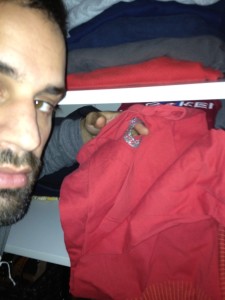 Second, we have a newly formed sense of camaraderie now that our spouses are both CrossFitters. In fact, this post may have been written on Wednesday, but I have a feeling by the time it goes live, we will have already exchanged a few eyerolly glances due to the amount of times CrossFit has been mentioned.
---
This has been a fun 30 days. Thanks to everyone who humored me by participating! Start saving up your ideas for next year. ♥