Today I am reminded of how thankful I am for atomic clocks.
I remember back in the day, running around and changing all the clocks in the house. The windy ones were the worst. Sometimes I'd miss one. Sometimes I'd forget which ones I had done. And when you had two people setting them back, it could be a downright disaster. This was before cell phone and computers. Was there a TV guide channel back then? I don't even remember, but if you got confused, you'd be screwed.
Atomic clocks are great, though I don't think the technology is necessarily all there quite yet. Ironically enough, the oldest atomic clock in our house—a projection alarm clock Nick's grandparents gave him for Christmas back in 2000—is the most reliable atomic clock we own. I've watched it before. The damn things goes from 1:59 to 1:00 or 3:00. It never fails.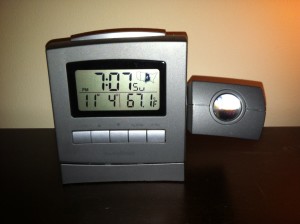 The others? Not so much. It can sometimes take days for them to change. Last night, the strangest thing happened. The atomic kitchen clock read 3:03 am. The microwave read 4:03 am. I set the microwave back an hour and dinked around in the kitchen for a little bit. When I went to leave, the atomic clock read 4:07 am. Wait, what? How does that even happen? As of tonight, it's still an hour ahead. Nick thought the microwave was wrong; I had to pull out my phone to prove I was right. (Pfft… like that needs proving ever.)
But even with the slightly sketchy delayed reaction of atomic clocks, it's way better than the alternative. Within a few days, all of my clocks will be set to the correct time with little to no effort from me. Well, all except for the one in the basement, which will forever be 1:42 due to a dead battery.