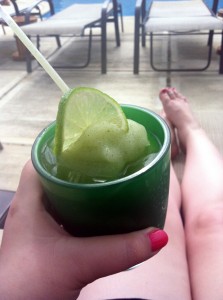 With none of us having been motivated enough to contact Rudy about diving, Friday became a relaxation day by default. There was rain in the forecast, but the morning was sunny. I headed to the pool around 11AM to catch some rays before the inclement weather set in. Kristen was at the hardware store and the boys were watching TV, so I squeezed in some reading time while I was alone. The pool filled up as the afternoon approached, but it was still pretty sparse. I really wanted a drink, but I didn't know which condo we were in. Fortunately Kristen returned just in time, and we enjoyed a couple rounds of frozen mojitos. We both agree that frozen is the way to go because the blender chops up the mint so there aren't any leafy surprises while you're trying to drink it.
After a while, Kristen and the boys went to visit the dive shop. I stayed poolside and got rained on. There are signs all over the grounds that say "slippery when wet." I don't quite think the signs serve the situation justice. They need to be more along the lines of "HOLY BAJEEBUS THIS SHIT IS SLIPPERY WHEN WET! NO SERIOUSLY BE CAREFUL." I almost bit it no less than six times, and I was trying not to slip. My feet just kept flying out from beneath me. I even stubbed my foot. It hurt a lot. :(
With the rain coming down there wasn't much to do, so I chilled in the condo and fiddled with my photos until everyone got back. Then we chilled together.
For dinner, BRK, Curtis, and I went to El Patio while Nick opted to work out (wtf?). They had a new upper level dining room. I ordered the spicy coconut snapper with coconut rice and a garden salad with ranch (why bother trying something new when you already know something is delicious? [2007/2010]), a banana colada, and blueberry cheesecake. Note to future-self: next time skip the cheesecake and get ice cream at Manelly's instead.
It's almost 9PM now, but it feels like the middle of the night. I'm going to read a bit and hit the hay so I'm nice and refreshed for diving tomorrow morning.
View all of today's photos below.
[nggtags gallery=11-30-12]