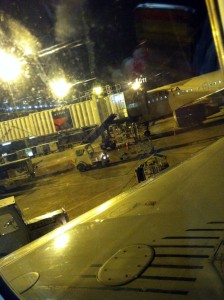 We left for the MSP airport at 3AM. 3. AM.
Everything went smoothly at first. There was no traffic and a short line to check our bags. We had to wait for security to open, and all I could focus on was the fact that Caribou wasn't opening for another hour.
As usual, Kristen held us up through the security line. This time she must have looked extra suspicious because they brought her in the little room and everything. They must have thought she looked tough too, because no less than six people were in that room with her. Too bad they didn't know the muscles are all for show. Curtis and I had our hands swabbed for chemicals. Nick made it through with flying colors. He claims it was due to his douchey mustache.
The flight to Atlanta went smoothly. Once there we got breakfast, and I got my much awaited coffee from Caribou: Salted Caramel Mocha. It's not something I would typically order, but people kept raving about it so I had to give it a try. It was delicious. I'm afraid I may get addicted to this high-calorie holiday beverages.
The flight to Belize City was a little turbulent at times. I slept through most of it though. Before we even took off I slapped the lady next to me in a sleep induced haze. I apologized. She asked me if it'd been a long day.
The entire customs process went quicker than it ever had for us before. The lines were short, and before we knew it we were ready to catch our connecting flight to Ambergris Caye. As a pleasant surprise, we stopped at Caye Caulker to drop off some passengers. Best. Airstrip. Ever. I don't even recall seeing any sort of actual building representing the airport. After that we arrived in San Pedro. All of our luggage made it on our flight, so that was good. Also, I love how they load the luggage onto carts to bring it less than 50 feet to the baggage claim, when we are literally standing right next to it when we get off the plane.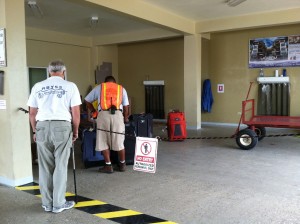 We are staying at The Phoenix, and it is awesome. We were welcomed with damp towels, ginger rum punch (souvenir glasses!), and a tour of the grounds. The condo and views from it are fabulous.
Our first official act once we got settled was to get food, of course. For the first time, we are staying in the heart of the city, so we walked aimlessly until we came to Fido's. I ordered the fish sandwich, and because Nick's a big softy, we made a couple of friends.
It started pouring during lunch, so we were trapped for a bit until it let up enough to walk back to the condo. After naps, BRK and I went grocery shopping, and then we all ate dinner at the Red Ginger. OMG so delicious! I had ceviche and grouper and coconut rice and beans and plantain chips and molten lava cake. And wine. I mean, most of it was shared. Except the wine. Never the wine.
View all of today's photos below.
[nggtags gallery=11-29-12]