This morning was sad, because we woke up to our last day of diving. I only intended on doing one dive, but Rudy talked me into two. During the surface interval I was starving. Kristen wanted to go to Latitudes Cafe and get smoothies, so I went with her. It turned out they served breakfast too. I ordered the Original Belizean wrap to tide me over, which consisted of eggs, ham, sweet peppers, cheese, and a secret sauce. Omg, best breakfast wrap ever. If Perkins served stuff like this all day, I would definitely indulge in breakfast more often.
Kristen decided she wanted to eat there for lunch, so after diving, we headed back down the beach. This time I had a roast beef and pepper wrap. I'm pretty sure it had the same sauce. Excellent.
After lunch I escaped to the pool for a little reading. For dinner we went to Hurricane's Ceviche Bar and Grill. Apparently they have great ceviche. We wouldn't know because we never received the ceviche we ordered. The service was slooooooowwwwww, but the food was good and there was a live musician to boot! I ordered the special, which was shrimp, cheese, and spinach stuffed grouper.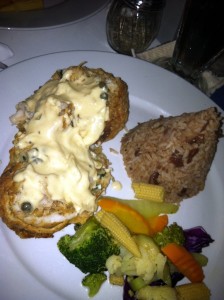 View all of today's photos below.
[nggtags gallery=12-07-12]