We got up bright and early for our first day of diving. BRK made us breakfast and we were at the pier by 9AM.
There's was a lot of fun things to see at the dive shop while on our surface interval. Martin was fishing for mullets with a net from shore, a stingray was swimming about, and there were sand crabs everywhere!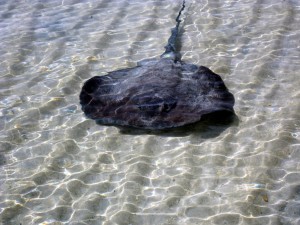 After two awesome dives, we freshened up and headed to lunch. We wandered down the beach until we came to Estel's. It looked good, and because we hadn't eaten there before, we decided to give it a try. Curtis, BRK, and I all had fish tacos. Nick had a ridiculously large double cheeseburger. We also shared conch ceviche.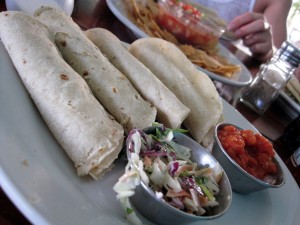 The weather was perfect, so when we got back to the condo I went down to the pool. There seemed to be a lot of people there, and they were all talking. I find the whole groups-of-strangers-socializing generally annoying because it's a constant chain of story telling. I ended up going back to the room and chilling on the balcony, which is extremely large and has comfy lounge chairs, so win/win.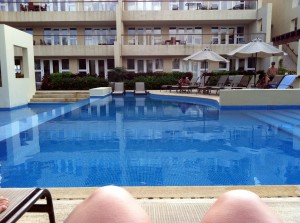 For dinner the four of us went to Blue Water Grill, which is actually affiliated with The Phoenix so we got 10% off. Woo! We had ceviche and summer rolls for appetizers. I had the "angel hair pasta with sauteed shrimp, snapper, and lobster in a tomato, garlic, and sweet basil white wine sauce." For dessert, Nick and I split the chocolate cake. I tried to get a picture, but Nick attacked it with his spoon before I got a chance. I think he does it on purpose because he hates when I take pictures of food.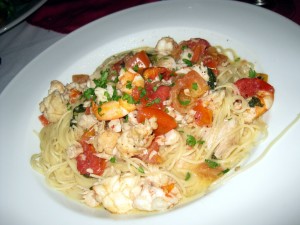 View all of today's photos below.
[nggtags gallery=12-01-12]