There's nothing worse than that moment before you have to leave, where you're surrounded by paradise, but you're wearing pants and waiting for the cab to pick you up.
No wait, that's a lie.
There's nothing worse than having over a foot of snow waiting for you at home, so you get delayed in the airport, then once you land you have to wait an hour before getting off the plane, all while developing a nasty cold.
I really shouldn't complain that much. The Phoenix made all our arrangements, from having our luggage picked up from our room, to calling a cab, to booking our Tropic Air flight to Belize City. All we had to do was be packed on time.
Kristen ventured out for breakfast before the taxi arrived. She was kind enough to provide enough food for all of us. I ate my breakfast sandwich in the San Pedro airport. Our boarding passes were green, but it seemed they had an upgrade since previous years.
| | |
| --- | --- |
| | |
| 2007 | 2012 |
Our short layover in Belize City went smoothly. And look! Our old friend is still there, still for sale. This is getting tempting.
I filled up on a couple jalapeno Johnnycakes before leaving, because who knew how long it would be before we'd get food again? We flew through customs in Atlanta. It took exactly one hour from the time we landed until we were seated at Chili's Too. I felt shitty immediately after we ate. I think my body was rejecting home food.
Like I said earlier, we were delayed because of the weather at home, but not by much. We were scheduled to land 9 minutes later than expected. Unfortunately once on the ground, we had to wait for a plane getting de-iced. Then we had to wait for an international flight to be let off and ushered through customs. During the flight I developed a cold, and all I wanted to do was blow my nose.
The drive home was slow due to ice. Nick had to snow blow the driveway at 12:30 so cklahr could get their car out of the garage. I bet our neighbors loved us. This is what I woke up to today: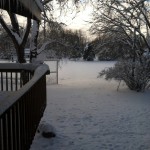 Wow, this is the fist time I've actually completed all my travel blog posts relatively on time. Usually the last day gets added weeks later, if at all. And the dive posts? Sheesh, let's not even talk about those.
View all of the final day's photos below.
[nggtags gallery=12-09-12]
They said what??!?
Here are some of the more interesting things said during the trip. Can you guess who said what to whom?
I don't want to touch your butt.
Lie down on the bed and I'll show you what I want you to do.