The sound of Kristen tossing her cookies kept us up all night. Poor Kristen. In the morning Nick made a comment about how he felt bad for her. A few minutes later he made a comment about eating breakfast. I said, "Nick, Kristen is sick. There is no breakfast."
"Damn it, Kristen!"
I managed to make coffee, but just barely.
Kristen bowed out of today's dives, which was most unfortunate because we saw dolphins.
Nick, Curtis, and I moseyed to Caliente for lunch. I had a Caliente Splash and a Mega Chicken Burrito.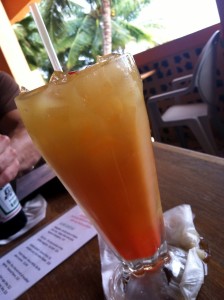 After lunch I wasted no time getting to the pool to catch some rays. I was able to find a good spot just before the sun dipped behind the building. Damn it. I stayed poolside anyway and caught up on some reading.
Kristen was up and about when I got back to the room. She was going to brave dinner with us, but by the time we were ready to eat, she was back in bed. Poor Kristen.
The three of us ate at Elvi's Kitchen. I had a mojito, coconut curry shrimp, and coconut pie for dessert. It was delicious, as expected, because it's Elvi's. Hopefully Kristen will feel up to eating soon so we can go back.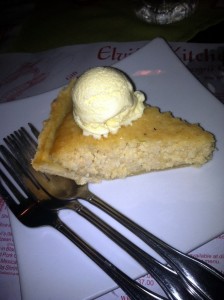 Tomorrow we are diving Turneffe. Sounds like it's going to be a long day. We've got to be on the dock at 5:30AM, and it's a two hour boat ride one way. I'm both looking forward to it and exhausted just thinking about it. Unfortunately BRK is sitting the trip out. I hope she gets out of bed and cleans this dump. Or at least finishes her 30 Days of Thanks posts. (Kidding, Kristen.)
View all of today's photos below.
[nggtags gallery=12-04-12]