I got up at 4:30AM on Wednesday. Someone had to make coffee.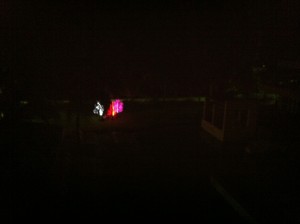 Martin picked us up on the dock at 5:30 and brought us to the dive shop. Rudy had breakfast waiting. Shortly after we were on the big boat and on our way to Turneffe for a full day of diving.
There were the three of us, Rudy, Martin, Loidy, and 9 other divers. The way there was rainy, so that sucked as we all huddled in the front of the boat to stay mostly dry.
After the first two dives the weather cleared up. It turned out to be a beautiful day.
We did three dives, and our surface intervals were all spent on the boat. Rudy fed us snacks and lunch consisting of stewed chicken, rice and beans, and potato salad. After we completed our dives we got beer and rum punch! I forgot to try the lionfish ceviche Martin made fresh that day. Damn.
My camera battery was dying, but I was able to snap a couple photos of the rainbows, Nick's shirt a day, and this one of the boys.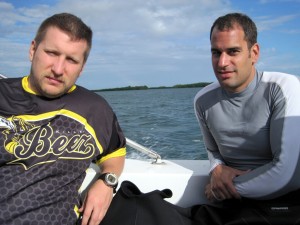 Before dinner I started fading fast. I took a quick nap. When I woke up I felt like a zombie. Also, because we were on a boat or in the water for almost 9 hours, I felt like I was still on one. The whole world was moving around me whenever I sat still, to the point where I got dizzy.
After wanting to eat at Wild Mango's for forever, Kristen finally got her wish. I'm pretty sure this is the place Matt and Dan raved about on our Lamanai Jungle River Adventure back in 2007. It was pretty good. I had a shrimp pasta dish (spicy!), black bean soup, and a virgin banana daiquiri.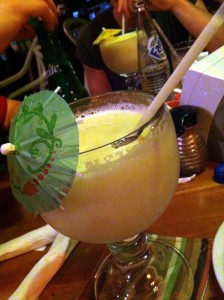 I felt pretty woozy by the time we got back. I was just going to lie down for a minute, just to see how the pillows felt, but I ended up passing out the minute I was horizontal.
View all of today's photos below.
[nggtags gallery=12-05-12]