Dive: 67
Belize Dive: 1
Date: 12/1/12
Site: Boca del Rio
Avg/Max Depth: 62/94
Temp: 81
TBT/CBT: 0:45/55:11
Buddies: Nick, Curtis, Kristen
The first dive of the trip went off without a hitch. We saw some sharks, a sea turtle, and a couple of Lizardfish, which are apparently pretty rare. I'm pretty sure they are all over the place, just well camouflaged. They remind me of those autostereograms that were popular in the '90s, because Rudy kept trying to point them out to me, and just when I was about to give up, BOOM! There they were.
Oh yeah, we're diving with Rudy again. It was nice because he and Martin picked us up at our dock and brought us right to the site. No unnecessary time spent filling out paper work or sitting through dive briefings. There were no other divers today, so that was nice as well. No other divers = no zipperheadedness.
I always forget how much I despise safety stops until I'm stuck doing one. Three minutes has never felt as long as when I'm suspended in 15 feet of water. I'm always fine while diving, but for some reason I struggle with my buoyancy and keeping my head above my feet while doing the stops.
Here's Nick looking all serene. Or maybe he's just sad because we didn't see any lionfish.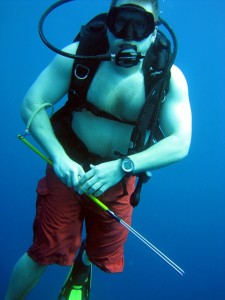 View all of my photos from Poca del Rio below.
[nggtags gallery="poca del rio"]