Dive: 73
Belize Dive: 7
Date: 12/4/12
Site: Esmeralda
Avg/Max Depth: 47/66
Temp: 79
TBT/CBT: 0:56/60:18
Buddies: Nick, Curtis
It was tough getting back in the water, knowing this dive probably wouldn't live up to the last. Fortunately the water was less choppy the second time around. This dive site is the only one I recognize from previous years. The surge made it hard to take photographs; video really is the way to go. Below is a compilation video of the dive.
Nick spotted this turtle. It's probably as up close and personal as I've been to one. I got some good photos and videos of it.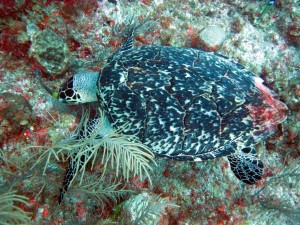 View all of my photos from Esmeralda below.
[nggtags gallery=esmeralda]