Dive: 74
Belize Dive: 8
Date: 12/5/12
Site: The Elbow
Avg/Max Depth: 54/78
Temp: 79
TBT/CBT: 0:46/61:04
Buddies: Nick, Curtis
Our first dive in Turneffe was fantastic. The coral structures were very neat.
Apparently the marine life was scarce because the current was strong. That didn't stop us from seeing this giant pufferfish. It took a while for me to see it when Nick first pointed it out. It took Curtis even longer, camouflaged as it was. The picture does a poor job at showing its size.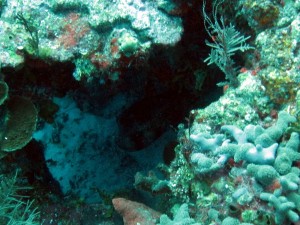 Here's some video I took of a bunch of random little stuff.
View all of my photos from The Elbow below.
[nggtags gallery="the elbow"]