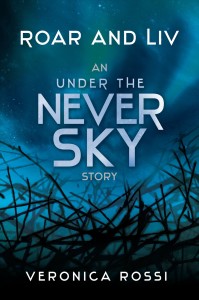 Roar and Liv by Veronica Rossi

Before Perry and Aria, there was Roar and Liv.

After a childhood spent wandering the borderlands, Roar finally feels like he has a home with the Tides. His best friend Perry is like a brother to him, and Perry's sister, Liv, is the love of his life. But Perry and Liv's unpredictable older brother, Vale, is the Blood Lord of the Tides, and he has never looked kindly on Roar and Liv's union. Normally, Roar couldn't care less about Vale's opinion. But with food running low and conditions worsening every day, Vale's leadership is more vital—and more brutal—than ever. Desperate to protect his tribe, Vale makes a decision that will shatter the life Roar knew and change the fate of the Tides forever.

Set in the harsh but often beautiful world of Veronica Rossi's "unforgettable" Under the Never Sky (Examiner.com), this captivating prequel novella stands on its own for new readers and offers series fans a fascinating look into the character of Roar. Poignant and powerful, Roar and Liv is a love story that will "capture your imagination and your heart." (Justine on Under the Never Sky)
I don't normally like story extras with secondary characters because as a general rule I just don't care about them, but I really, really enjoyed ROAR AND LIV. I feel like I have an insight to these characters now, something that gives me a connection to them. I, dare I say, care about them?
It was nice to see Perry through someone else's perspective as well. I love him just as much, if not more, after reading this. #omnomperry
Although this book is not needed in order for the series to make sense, it really enhanced my reading experience of THROUGH THE EVER NIGHT. It's a great read and it's short. I highly recommend you read it!
Go! Do it! Now!