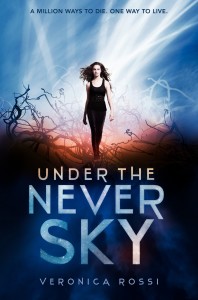 Under the Never Sky by Veronica Rossi

Out of the blue one day, Mary told me I had to read Under the Never Sky because I would love it. I think Mary knows me pretty well, so without question I signed on to Amazon and had the book sent to my Kindle.
It took me a couple of months to get around to reading it, because lately I've been fail at reading, but when I did, zomg! I could not put it down.
As far as book boys go, Perry #omnomperry is a breath of fresh air. Let's be honest, she had me at Savage. Tattoos? Green eyes? Scars? Scruffy? Say no more. He is mysterious and gifted. Devoted to those he loves. Gah!
Aria makes for a good protagonist as well. I can't remember finding myself annoyed by her, as I do with a lot of YA female leads.
For me, every scene of this book played in my head like a movie. It flowed perfectly. The characters were diverse and realistic with clear motivations. There were just enough little twists to keep my jaw popping open.
At first I thought the flip-flopping 3rd person POV was strange, only because it happens so rarely in the books I read, but it worked really well for the story. I felt like I was getting an adequate look inside the characters' minds and how they saw each other. I also think Rossi found a good balance between filling the reader in on what was happening while keeping a bit of mystery. So many times I find myself frustrated because an author either obviously withholds information or overnarrate to the point of boredom, and that didn't happen with UTNS.
The ending kind of killed me a bit. It wasn't sad in the traditional sense, more so open ended in the there-are-two-more-books-coming-out-and-hahahaha-don't-you-wish-you-knew-what-happened-next? sense. Let's just say I don't know how I would have made it another month until the sequel came out without the first two chapters printed at the end of the book.
Since she'd been on the outside, she'd survived an Aether storm, she'd had a knife held to her throat, and she'd seen men murdered. This was worse.

Exiled from her home, the enclosed city of Reverie, Aria knows her chances of surviving in the outer wasteland—known as The Death Shop—are slim. If the cannibals don't get her, the violent, electrified energy storms will. She's been taught that the very air she breathes can kill her. Then Aria meets an Outsider named Perry. He's wild—a savage—and her only hope of staying alive.

A hunter for his tribe in a merciless landscape, Perry views Aria as sheltered and fragile—everything he would expect from a Dweller. But he needs Aria's help too; she alone holds the key to his redemption. Opposites in nearly every way, Aria and Perry must accept each other to survive. Their unlikely alliance forges a bond that will determine the fate of all who live under the never sky.

In her enthralling debut, Veronica Rossi sends readers on an unforgettable adventure set in a world brimming with harshness and beauty.