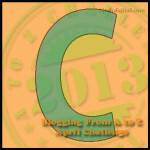 Everyone always complains about bad customer service, but rarely do I hear when someone has an awesome experience with a company. So I thought today, I'd talk about the awesome customer service I received yesterday, as well as some not so great service.
First up is the not so great service from Groupon. I accidentally bought the wrong deal. Oops. I was just trying to be a good little wifey and order the training course hubs wanted before I forgot and it expired. The problem was that he sent me the wrong link, and I didn't see his chat that read "wait" before I completed the order. No big deal. They have a 7 day return policy on unused vouchers. I emailed their support service yesterday, but I have yet to hear back from them, and it's getting dangerously close to the end of the 24-hour response time they claim to have.
But the awesome customer service I received from Zoya more than made up for it.
Last week I ordered some nail polish. I was super excited to receive the shipment, but imagine my surprise when I opened the box to find this:

The top of the red polish bottle had snapped off, and the entire thing emptied. There was flaky, glittery polish everywhere. I emailed customer service, explaining what had happened and asking for a replacement of that particular color. (If you're curious, it was CHYNA.) I also mentioned I had pictures if they needed them.
Within the hour, someone from Zoya contacted me via email. It wasn't a canned response; it didn't have the cold feel of someone who was following a script. But here's why their customer service stood out to me: She asked to have the photo not only to obtain authorization to send me a new bottle, but also to "help them determine what may have caused the damage so they can attempt to take preventative measures for future shipments."
If she had just asked for a photo, I would have sent the closeup of the broken bottle to prove I was telling the truth and been done with it. But because she took the time to explain why else they wanted the info, I sent her all three photos and described the condition in which it was sent to me.
It didn't take her long to get back to me, and when she did, she informed me that they were sending out replacements for all 5 bottles. I'm not sure if the information I provided shed any light on the problem, but I'm very happy with the way they handled the ordeal.
Have you had any great customer service experiences?
Here's a list of COOL bloggers participating in the challenge: