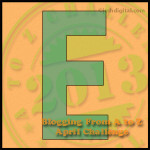 One of my favorite bands is Blackfield, and "End of the World" is my favorite of their songs. I even got some of the lyrics engraved in the back of my iPod.
Waiting below for a dream
Here in the garden of sin
This is one of those times where I should take a picture to make my blog more visually dynamic, but that means getting my iPod from my car, taking off the case, photographing it, etc., and I'm feeling lazy. Besides, I'm already a day late with this post, so…
I saw Blackfield live in Seattle in 2011 with cklahr. This song gave me chills, even if Aviv did take off his shirt and wrap it around his head. Hey! I don't judge, all right?
What is your favorite song that you've watched someone perform live?