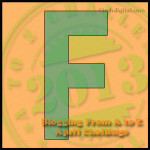 I love fonts! Fonts are the greatest thing ever. I frequent dafont.com often to look at new fonts, usually when I make graphics. Also, people who make things and put them on the interwebs for free are awesome.
Also awesome? Google Web Fonts. It allows you to put fancy fonts on your website. However—and I say this because I see this a lot in the A to Z blogs I'm visiting— fancy fonts work great for titles and sidebars, but they are way too difficult to read when used for blog posts. jsjsjsjs
Anyway, I digress.
My favorite font is probably Crushed.

One time I made a font on YourFonts. It doesn't really look like my handwriting though. Writing in those little boxes is hard!

Recently I downloaded an iPad app called iFontMaker that allows you to make unlimited fonts. It's much easier to make fonts on an iPad than trying to write with a pen in a little box and not being able to correct errors.

How about you? Do you have a favorite font?