For years I've wanted to redo the spare room where I keep all my clothes into something that isn't an eyesore, but I've never been motivated enough to tackle it. Welp, that has all changed.
When hubs and I first bought the house, I found the room kind of endearing in a this-is-so-ugly-but-kind-of-hilariously-awesome type way. It didn't take long before it became a complete eye sore. Let me show you.
(Ignore the clutter. And the peeled wallpaper. And the bra. And the cat, who knows her little world is about to be turned upside down.)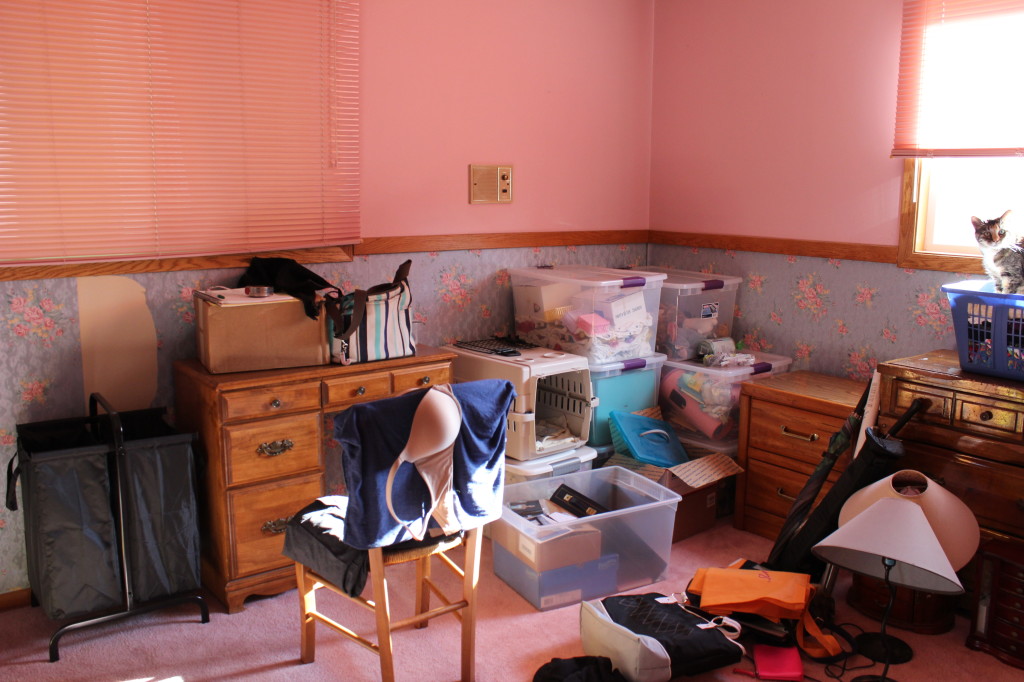 As you can see, the room is downright fugly. The shiny blue wallpaper on the bottom of the wall which was lifting on the edges, the pink walls, blinds, and carpet, the not working intercom on the wall, even the chair rail—it all had to go.
I can't even begin to describe how much I despise this room. I'm not the most organized or motivated person when it comes to finding a place for things, and I'll admit I have some stuff I don't really need (which I'm in the process of finding new homes for), but I'm positive it wouldn't be in a constant state of disarray if I could stand being in it longer than it takes me to find something to wear.
Like I said before, I've wanted to do this for years, but I'm glad I waited because my vision for the room is very different than it used to be. My plan is to have a room with a vanity and plenty of storage for my clothes and beauty items and other things that are mine that don't need to be scattered around the house. Let's just say I'm really excited for it to be done, and at this early point in the process, I already want it to be over.
I started the irreversible process over the weekend of the 4th. I was pleasantly surprised to discover the wallpaper was peelable, which means it peels off easily, leaving the paper backing which can be removed with water (as opposed to traditional, which makes me want to slit my wrists). The wallpaper came off so well that I was starting to entertain grandiose ideas of having my first coat of paint on in the following week.
And then I spent three times as long removing the border. I thought it would be just as easy as, if not easier than, the wallpaper, but no. Fortunately it wasn't so bad that I put gouges in the wall, but there was plenty of chipping paint in the corners and around the ceiling. There really wasn't much damage at all except for a couple of holes that were hidden under the wallpaper and old nail patches that came off while I was scraping. I think the most damage I did was tearing off pieces of the wall while I was removing my Edward posters. Apparently masking tape works better than I'd originally assumed.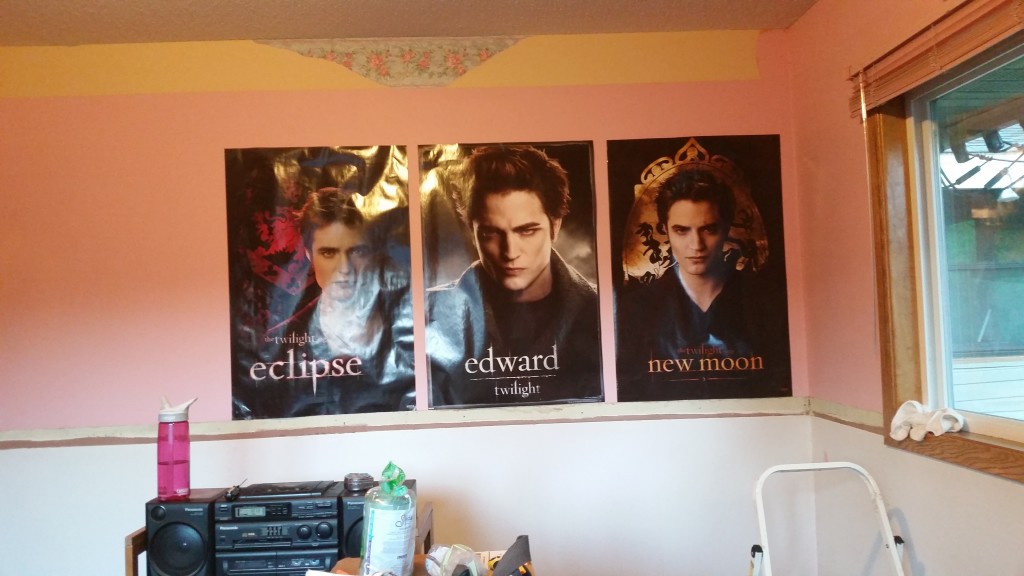 Bye, Edwards!
Nick was kind enough to remove the chair rail while putting a minimal amount of holes in the wall. He also removed the intercom.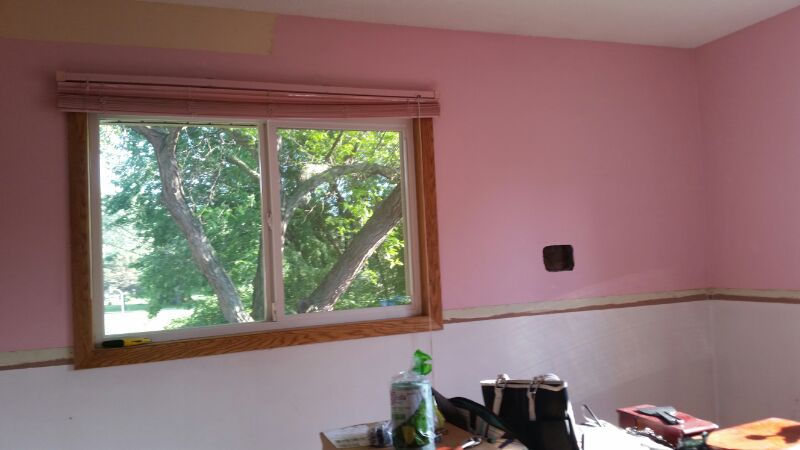 At that point I was still feeling overly optimistic.
I think that first day took me about nine hours total, and that included a trip to Home Depot for supplies, Target for non-supplies, and an ample amount of general Twitter and WhatsApp procrastination. Still, it was enough to put me out of commission for Monday morning's workout.
Stay tuned for more!