The walls are all painted and they look amazing. The color turned out to be exactly what I wanted. The cat was kind enough to help me. Or… maybe she was just excited about an open window? I'd like to think she was offering moral support, at the very least.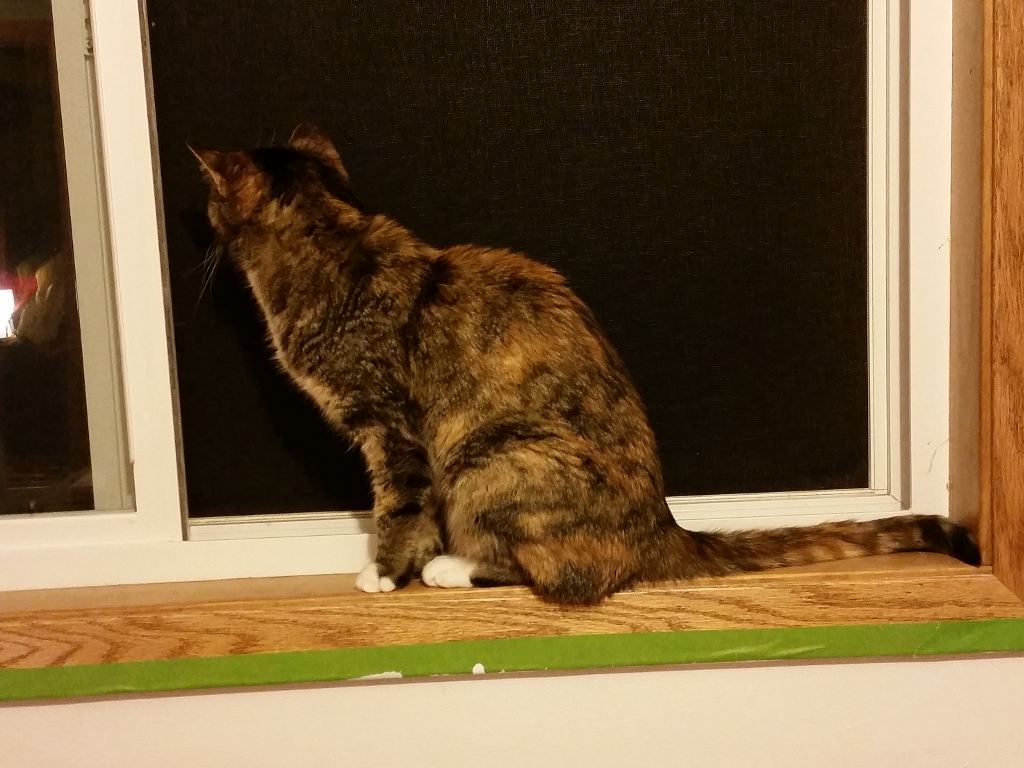 We aren't getting carpet for a couple of weeks, but to keep things moving along, we went to Ikea on Sunday. Originally I only intended on getting the three pieces that will make up my vanity, but the trip seemed so tedious and Nick hates Ikea so much that we decided to get everything. Unfortunately the desk I wanted was out of stock so we'll have to go back, but Nick made up for it by getting two shelving units for himself.
It was hot and humid, and getting eight 50–80 pound boxes in and out of the Explorer proved to be quite miserable. For a minute we considered leaving Whitney behind just to make room for our treasures. I'm glad we didn't, though. She was quite useful for the whole unloading and building process.
Nick and Whitney went to work on the three cube units while I built two drawer units and one dresser. It was a lot easier than I thought it would be and I only hit a couple of snags, which Nick helped me fix. By the time I was done (midnight-ish) I could barely move from being in the same hunched over position for six hours. Getting out of bed five hours later for bootcamp was not an easy feat. My entire body was bruised and sore. I might have won the battle, but the Ikea furniture put up a good fight.
I have one more dresser to build. We'll have to return to Ikea soon for my desk, which will also need assembly. Before the carpet gets replaced, I need to stain the new baseboards. We also still need to replace the light fixture, light switches, and vent covers, and hang curtains. But other than that we are so close to being finished!
I'm excited to see my Vanity Girl mirror, but I'm hesitant about unpacking it before its final home is ready. It's not something I want to be moving around once it's assembled, and getting all the furniture I just built out of the room is going to be enough work as it is.
That's all for room updates for now. But before you go, check out my awesome new lamp! I've always wanted a Chat Noir poster, so when I saw this, I had to have it.