Last night I slept like a baby. Traveling is exhausting, even when you're just sitting on a plane or in the airport for hours. I woke up at 5 a.m. completely refreshed, and also ecstatic that there was still two hours before my alarm went off.
Kristen made us breakfast, as per usual. Egg sandwiches with (get this) cream cheese. What an amazing idea. Imma need to do this at home.
After our two dives we had lunch poolside. Ceviche and coconut shrimps, mmm. I stayed behind and took a dip while everyone else went inside. As I was toweling off I realized I sunscreened everywhere but my chest, so let's hope I don't regret that tomorrow.
Nick and Kristen took a trip into town for snacks and sunnies. They came back with a tote of soda. Nick's gonna fall off the wagon hard again, and it's going to be amazing.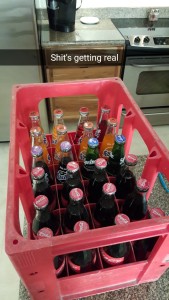 The lack of a good WiFi connection makes me sad. I have to stand on the patio if I want to post a photo to Snapchat or Instagram, and any desire to post photos on the blog is a pipe dream. On the bright side, it's saving me money because I can't take advantage of all the Black Friday deals.
It rained a couple of times today, but it happened when we were either under the water or relaxing in the room, so I consider that a big win. Despite the on and off sprinkles, it's still hot and humid. I'm not complaining, because I saw pictures of snow at home.
Nick abandoned us for dinner to work out (wtf?), so cklahr and I went to Caramba. I had a giant pina colada, which I blame 100% for my stomach splitting at the seams, and coconut curry shrimp once again. I've only recently discovered that I like curry, so I'm making up for lost time. So far this was the best coconut curry I've had.