I've never been one to go out and do things by myself. Sure, I venure out alone out of necessity. After all, I can't be bothered to find a buddy every time I need food, toilet paper, or last minute party attire. But as far as going out and doing entertaining things, going solo is out of my comfort zone.
Last week I did just that.
The Blaine Festival, a small city fair by my work, was open last weekend. I watched it slowly set up over the course of a week. I'd never been to the Blaine Festival, even though I drive by it every year. We're big state fair goers, and sometimes we go to the city days by our house because of softball tournaments or fireworks, but that's about it.
But by the time Friday rolled around, I kind of wanted to go.
Okay I'll be honest. I really wanted a corn dog.
The only reasonable time to go would be after work on Friday, but there were so many factors working against me. First of all, I'd have to go alone, which would feel weird. And what if people thought I was weird? And wouldn't it also be weird to not be able to share my experience with someone? I didn't know where to park, and I'd probably have to walk far, which sucks with a bum foot. Not to mention I had tentative plans for dinner and a movie which hadn't been finalized with times. And I wanted to shower first. Then at a stop light I pulled up the website to see if there was parking info and I saw they didn't open until 5:00. It was 4:50.
No, a corn dog was not in the cards.
I went to the bank instead, because I'd planned to do it after. While I sat at the window, mourning the loss of my corn dog dreams, I started to think, why not just go? I was only 5 minutes away, and it would be open by the time I got there. No one would notice or care that I was alone, and if they did so what? Also, I think I'm pretty awesome. If I can't enjoy my own company, whose can I enjoy?
So I drove back to the Blaine Festival. Despite it only being open 10 minutes, there was a flood of people walking in. I snatched one of the last parking spots in the closest lot. My first stop was a corn dog. The first stand I went to didn't have corn dogs, despite the giant sign on the top that read CORN DOGS. The second stand had corn dogs, but they also served a smorgasbord of other things, and I had to wait forever.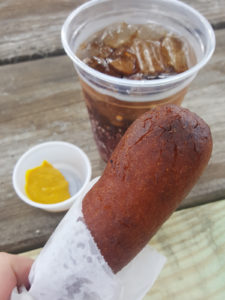 My original plan was to get the food and run, but I decided since I'd stepped this far of my comfort zone already I might as well keep going. So I sat at a picnic table, by myself, and listened to the talent show singers as I ate.
The talent is very different from those who make it to the state fair, that's all I'm saying.
After I ate I took a few minutes to walk around the merchandise tents. The overwhelming urge to flee the scene of loneliness had disappeared. I didn't feel rushed to make it home in order to be on time for something that wasn't even scheduled yet. To my surprise, I actually enjoyed being there by myself. It was a new and unexpected experience.
I'm not sure if I'll make it a habit to start going on solo adventures, but it was nice to learn that it wasn't the big scary experience I thought it would be. Next time there's something I want to do and no one to go with, I'll be much more likely to go.
Side note, the corn dog was terrible.