So apparently when all you do is wake up, eat, sit by the beach/pool, eat, go back to the beach/pool, eat, and go to bed, there isn't much to blog about. That and blogging from my iPad really wasn't as easy and convenient as I thought it would be.
So let me sum up the rest of my vacation in one short and sweet post

Like I mentioned above, a lot of eating and sun time happened. We started most days at Cocotal restaurant, which was a buffet. Erm… food presentation, I mean. I typically opted for oatmeal (so many add ins!) and a bagel sandwich. Sometimes I ate hot foods. The last couple of days I made my own chilaquiles, which were so good I regretted not trying them sooner.
In the beginning of the trip we tried out the different pools. The pool outside our back door was the party pool. We went there the first day. A few days later we got chairs that were practically outside our room. The plan was to prop open the sliding door so we could access our room for bathroom trips. But that day it was so freaking hot, and the pools got zero breeze, so I ended up going to the beach instead.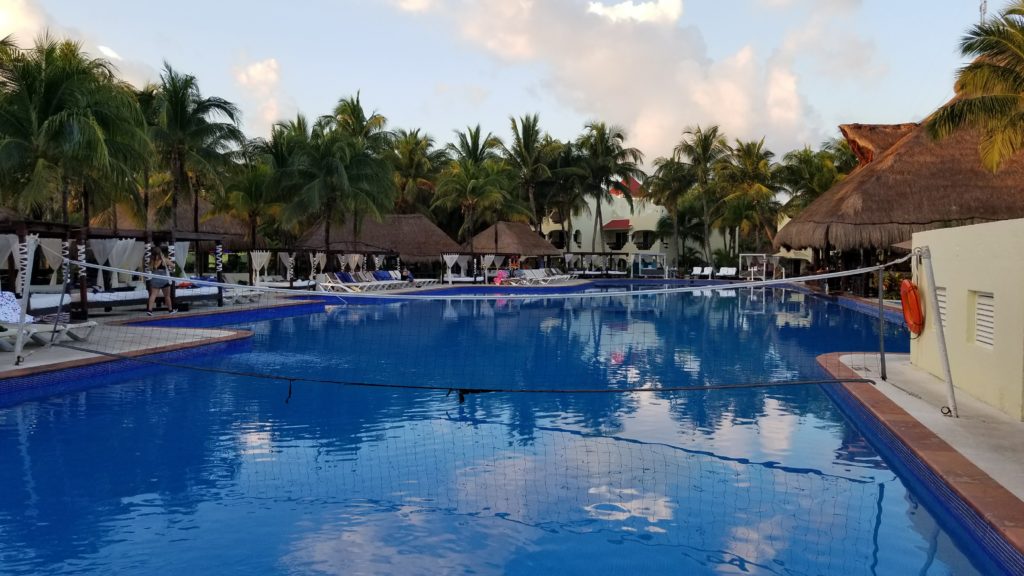 There was an equally large sized pool that was a little bit of a walk from our room. I bitched the whole way there. Why walk all this way to go to a pool that's the same when we have a perfectly good pool outside our back door? Well I stood corrected. The pool was much quieter, and the drink service was much faster.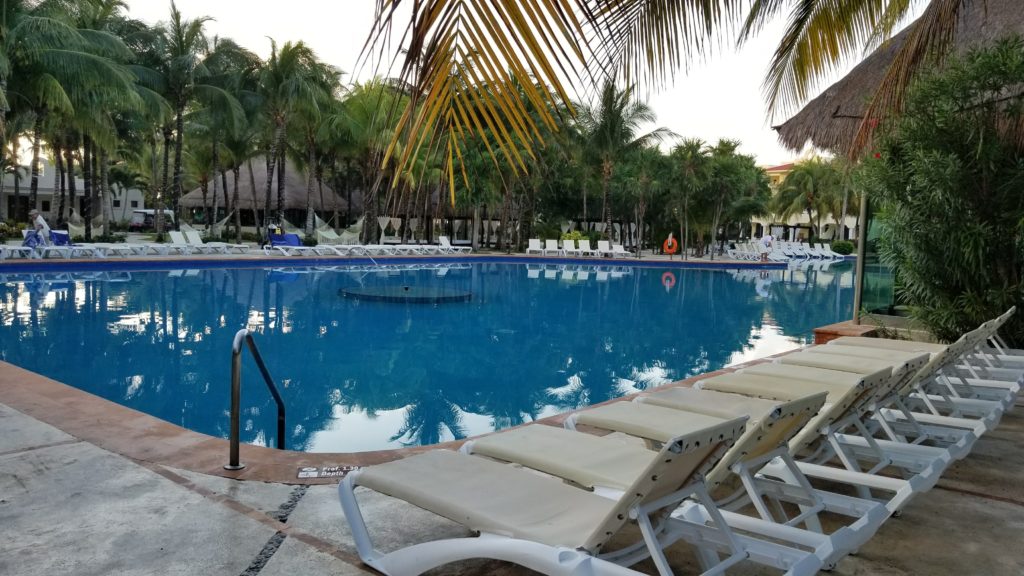 There was, of course, the small pool that we spent Christmas at, which we didn't revisit. And another smaller pool that I would have liked to visit but didn't get the opportunity.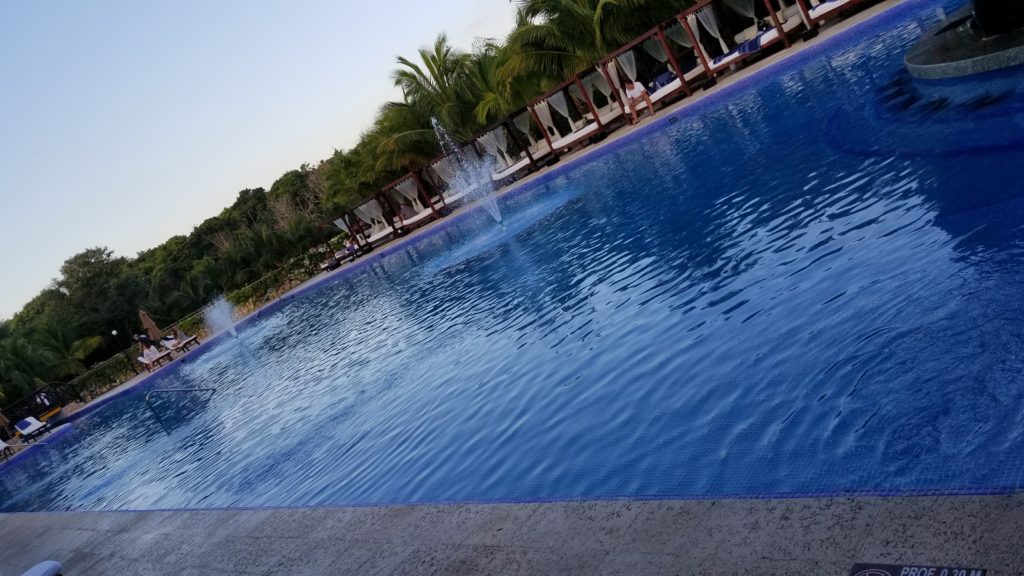 The last couple of days we forwent the pools and parked on the beach. I've never been much of a beach girl. It seems there are never enough chairs, it's hot, the ocean isn't as convenient as the pool, there's no escape from the sun, and I always manage to get sand everywhere. And I mean everywhere.
This was not the case at El Dorodo Royale! There were ample chairs and huts and beds for everyone! Plenty of shade to be found. The breeze was strong enough to keep me cool. It was perfect. The hotel didn't have the best beach. I didn't find the beach itself as nice as everyone else thought it was, but I was comparing it to places like Hawaii and Aruba.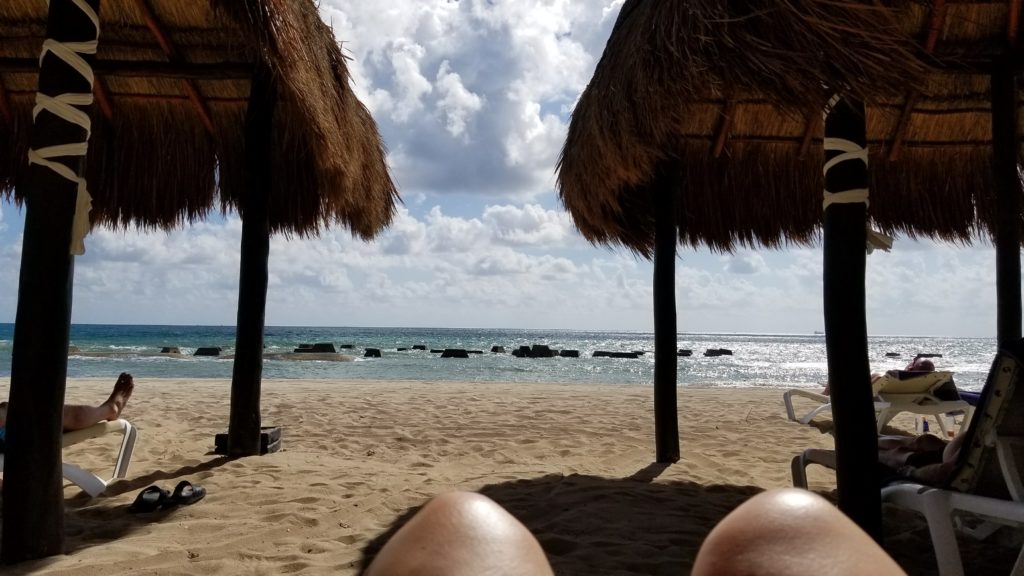 The sand wasn't a pristine white, but it wasn't too hot to walk on so that was good. My biggest complaint was that it sloped where the water washed ashore, and it wasn't hard packed, so it wasn't possible to comfortably walk along the waves. At least for me and my spaghetti ankles. There was a lot of coral to walk over in order to get in the water. Once I got past it it was better, but there was still uneven floor and surprise coral. Definitely not what I picture when I heard about the beautiful beaches of the Riviera Maya, but the layout and amenities of the resort more than made up for it.
Definitely one of the most entertaining things on the last day was watching the pterodactyls diving for fish! It's especially exhilarating and terrifying when you're in the water and they dive in three feet away from you!
We switched up restaurants for lunch most days, usually at beachwear friendly places, and headed back to the sun. I napped most days before dinner. We tried all of the restaurants for dinner, including a culinary theater, which was a posh five course meal where they present how they made each course. Very entertaining experience.
One day I visited the Cat Cafe during feeding time! I got there 5 minutes early, and the food was already out. There were only two cats there, and they wanted nothing to do with me. #sadface
It was very interesting being at the resort over Christmas heading into New Year's Eve. When we arrived the resort was quiet, and the majority of the crowd was older. The day before we left, it was at 95% capacity and felt like spring break. I definitely preferred the former, only because it was so much less crowded… and no one was walking around the beach FaceTiming at obnoxiously loud volumes. Seriously, kids* these days.
I did, however, enjoy the eye candy that accompanied the poolside New Year's celebration (New Year's Eve Eve Day?).
Hey, these dancers were employed, therefore I'm not an intrusive creeper for posting this video.
I think that about sums up our trip. We didn't do any sort of excursion. We stayed at the resort the entire time, and it was glorious! I'd like to enjoy another lazy all inclusive vacation again soon, but I'm definitely itching to go on another dive trip!
___________________________
*By kids I mean twenty-somethings. It was an adult only resort, after all.