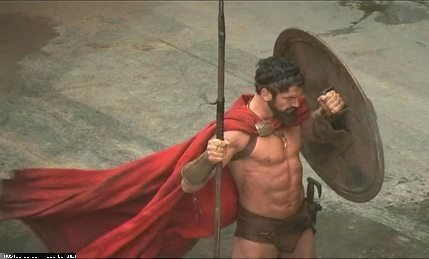 We saw the movie 300 last weekend. I didn't think I'd like it because it's a battle movie, and Nick told me it was loosely based on history, so I almost lost all interest completely. It was good though. The battle scenes were more believable than far fetched as far as digital animation goes. And I'm told the movie was done completely on green screen as well.
My initial thought was, "It it really necessary for men to go into battle wearing nothing but little leather shorts and a cape?"… Yes, yes it is completely necessary.
**Spoiler Alert** I guess I assumed that because they made a movie about this that the Spartans would have won… but they didn't. All the hot guys died and that was rather disappointing.
Anyway, I give this movie 4 out of 5 paloozas (mainly because it's all digital and looks cool in a theater). See it at one of the IMax theaters if you can.
AAAA
AAAAA paloozas = See this movie in the theater for optimal viewing
AAAA paloozas = See this movie in the theater if you can
AAA paloozas = Pop some popcorn and rent this movie
AA paloozas = Watch this movie on TV … for free
A palooza = … I think you know where I'm going here…
No paloozas = Reserved for Eyes Wide Shut