It was 5:00 and the Crawl was officially over. Time to go to the after party!! On the way to Bootleggers I heard a strange siren. Wasn't sure what it was. I'm fairly positive I asked whoever was walking next to me if they heard it and they said "yeah, what it that?"
Turned out to be tornado sirens, which I learned later by drunkenly putting 2 and 2 together. We got to Bootleggers and I decided to call Nick to pick me up since we were going to our gym buddy Renee's grad party later that evening. I went outside because the music was too loud to hear over. Smitty answered the phone at my house. I didn't know it who it was at first. Not because I was drunk, but because there was a lot of background noise and I never know who is going to answer the phone at my house anyway. I strained so hard to hear him and comprehend what he was saying, and that's real difficult when you're drunk and can't see lips moving. Turned out we were getting pelted with mega hail at home. I briefly talked to Nick and he told me they were getting stormed on and that he would call me later.
I didn't know how long later was and I knew I'd never hear my phone ring inside the loud bar, especially with my already dulled senses. I stood in line to re-enter the bar where there was dancing and more free beer. The TV monitors above the bar were plastered with tornado warnings. Soon the downpour started, but the storm didn't amount to anything else.
At sometime Derek decided to show off his mad dancing skillz. Not quite good enough to get us kicked out though. I knew I didn't want to drink anymore, but with more pitchers of free beer I kept ending up with a cup in my hand. I kept trying to slyly leave the cup on a table or hand it off to someone else who didn't have one. The pitchers didn't look big at first glance, but after 6 hours you realize just how much beer they hold!!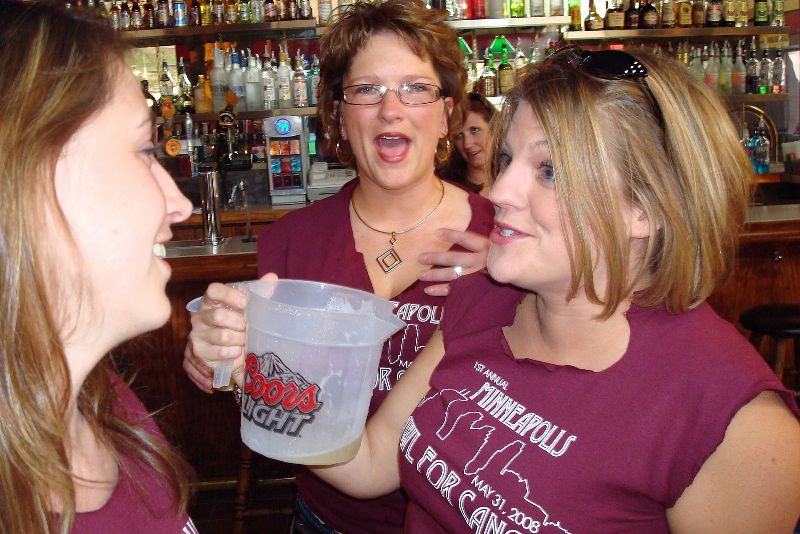 Feeling a bit woozy, I sat down at a table. Soon I felt a hand on my back being sized up to the tracing of Matt's hand on my back. I turned around and it was a Coors Light Girl. She promptly brought me to the Coors Light booth, where I was temporarily tattooed on my arm and back and handed a t-shirt. Sweet. I returned to the group where a few people oohed and awwed over my ink. I ended up giving my t-shirt to Brenda and bringing her to the booth to get tattooed as well. Then the CLGs gave me a large stack of tattoos to take home. Woo-hoo!!
Shortly after I felt my phone vibrating through my purse. I didn't remember putting it on vibrate. I answered and went back outside. Nick said he was on his way and he'd call me when he got closer. Back in line. Back inside. Wait. Finally Nick called and I was off.
He gave me a hard time on the way home for giving "his" free t-shirt away. When we got home there were still little piles of hail in the yard. The plan was to let me lay down for a little while before going to Renee's. I think the plan was really to let Nick play video games with his buddies longer. I promptly went inside to the bathroom and prayed to the porcelain goddess. Fortunately there was nothing but liquid in my belly (and I was drunk) so everything came out easily. I proceeded to face plant on the bed and pass out go to sleep.
I woke up around 11pm to repeat the process. And at 11:30. 11:45. 12:05. Etc, etc. No more than 20 times between 11pm and 3am. I kept drinking water in between so that I'd have something to throw up as opposed to dry heaving and getting that acidy burning crap all up in my mouth. I tried not drinking water hoping that maybe the urge to purge wouldn't trigger, but it didn't work that way. I kept getting mad at my system for trying to rid itself of something that wasn't there any longer. Unlike my usual loud vomiting, it was much quieter than normal. It sounded familiar, but I couldn't quite place where I heard it before. Then I remembered.
Click here to listen and let me know when you figure it out!!
This entire time Boo kept watch over me from the hallway. She didn't change positions the entire night. It was like she didn't actually want to be near me, but she was going to man the post to make sure I wasn't bothered by the riffraff in the house. I was half expecting her to end up like this:

moar funny pictures
Nick finally gave up on the idea of me going to Renee's, so he left me to fend for myself (I was fine, really) and took off to the grad party sometime after midnight. The next day Renee showed me pictures of the hail at her house. She said some of her friends froze the chunks to mail hailtinis.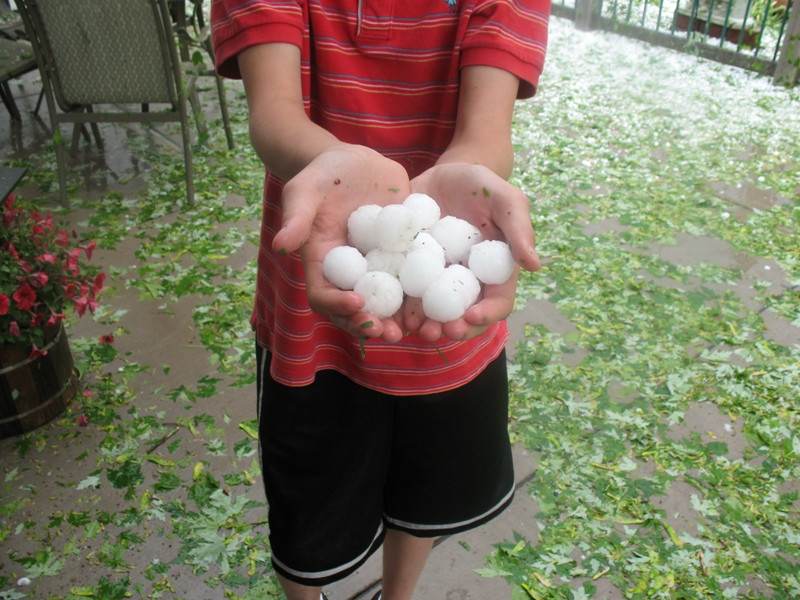 As good as a hailtini sounds I'm glad we didn't get any this size at our house, being only a mile apart and all. I like my vehicles undented, thank you very much.
On Sunday I was feeling much better, although not quite good enough to go to the gym. Brenda left her shirt behind at Sarah's, so now Nick gets his free shirt. Apparently Matt read my blog and thinks I remembered too much to be drunk. Oh let me tell you, I was!!
The Crawl was a lot of fun and I would definitely do it again next year, reconstructed t-shirt and all.